Many people would like to have straighter teeth. You know, your smile is a very important personal characteristic. In fact, it's considered the number one characteristic that people notice, in surveys, when asked that question. And having said that, there are a lot of adults that didn't have braces when they were kids. And they certainly don't want to do that now. (Plus, read why crooked teeth go beyond your smile). Clear aligners (also called invisible aligners or invisible braces) may be the answer.
So, the question is: Do clear aligners work well for straightening? And the answer is almost always yes. I would say about 90 percent of the time that clear aligners are going to work well for an adult patient.
What are clear aligners?
You've probably seen them. They look like little clear trays, maybe like a bleach tray. They're made of a medical grade plastic, and that medical grade plastic is designed to move your teeth. And the way that's done is that scans are taken digitally of your teeth or impressions are taken of your teeth, and then there's a special software that's used to design a series of aligners.
How do clear aligners work?
The software helps predict that if you put pressure on certain teeth, that they'll move in a certain direction. And then that series of trays can be created, so each one does something a little bit different in that serial fashion. And typically, those trays are changed out every one to two weeks. And so, sometimes you feel the pressure in one area more than another, and then on the next tray, you'll feel more pressure in another segment. They are very effective at moving teeth.
Studies have shown that treatment with clear aligners is associated with a better quality of life compared to treatment with conventional metal braces.
Are clear aligners better than metal braces?
In some ways, they can be more effective than metal braces because there's not as much trial and error using a software program that's pretty intelligent. You know, when technicians use it to set up the case, they know that if we apply pressure here, then this will move, and then we apply pressure here, and so that can make it actually very efficient in terms of moving the teeth to the places that they belong. And so, that's a really nice benefit of clear aligners.
Are clear aligners invisible?
Of course, another benefit is that they're clear, you know. So, at the beginning I mentioned that a lot of adults don't want to have metal at this point, and so this is a way that you can straighten your teeth. And for the most part, people can't really tell that that's taking place.
Can you eat normally with clear aligners?
Now, the other thing about clear liners that's nice is that it's much easier to eat. You can take them out and you can eat and then you can put them back in. For most systems, as long as you're wearing them about 22 hours a day, they're going to work really well. So, that's a couple of hours off, which isn't bad. You can usually get some good meals in and cleaning as well.
How to clean clear aligners?
Another benefit of clear liners is that you're able to clean properly. You don't have wires and brackets and elastics to work around. You can take them out and you can clean the way that you normally would. So, there's much less risk of problems while you're in orthodontic treatment.
How long do you have to wear clear aligners?
You know I mentioned a few minutes ago that it can be more efficient. And that's a huge benefit, because a lot of traditional orthodontic cases can take up to two years to finish. The nice thing with clear aligners is you might be done in six months, maybe a year, and so the treatment times are very short.
Can clear aligner trays be used to whiten teeth?
There's one other benefit that's kind of a bonus that I like. It's that a lot of times with a clear aligner, either during the treatment or after, you can use that as a whitening tray. Because it's a vacuum formed tray that's molded to your teeth, you can use professional whitening products and put them into that aligner and it will hold it against your teeth and actually do some nice whitening. So, who doesn't want straighter whiter teeth? And to get it all in the same process is pretty cool. (Read about some options for whitening teeth with traditional braces).
So, you know clear liners are something to think about, especially for adults. But for teens that are responsible and won't lose those aligners, it's also something that can be very beneficial.
If that sounds like something that you're interested in or you'd like to just see what's possible, at Express Dentist we have a trusted network of providers all around the country. There are many of them that are proficient with clear aligners or other types of orthodontic treatments. So, if that interests you or you want information about other cosmetic dentistry treatments or you just need a general checkup, please reach out to us, and we will help you find someone that can help you with your smile. Take care of your teeth and they will take care of you!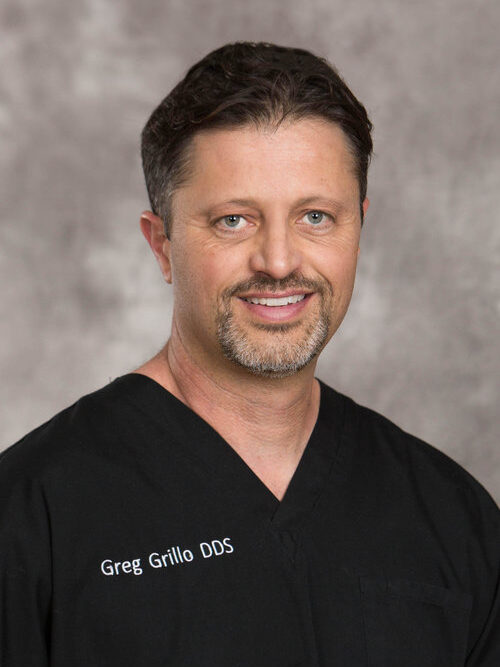 Dr. Greg Grillo DDS studied at the University of Washington where he received a bachelors degree with Honors and later attended dental school on the same campus. Following school Dr. Greg served in the United States Navy as a dental officer. During this time he received advanced training in specialty areas of dentistry while also treating families of members of the military.
As well as sharing valuable information on dentistry and oral health, Dr. Greg remains a practicing dentist to this day. He works with families in the Okanogan Valley where he lives with his wife and three children.