Life can get incredibly busy on weekdays. Between home and work and kids and errands, dental care can sometimes take a backseat. But regular dentist visits are important not only to solve problems but to prevent them. That's where a weekend dentist can be useful. They offer appointments that fit around your busy schedule, so you can stay on top of regular dental check-ups without messing up your weekday routine.
Weekend dentists near you are also available should a dental emergency happen on a Saturday or Sunday or after hours. But how do you find a dentist who's open on the weekends or open 24 hours?
The Express Dentist hotline 1-844-593-0591 is a toll-free number that connects you to weekend dentists in your community. You can get same-day appointments for professional dental services 24 hours a day 7 days a week. Call the Express Dentist hotline 1-844-593-0591 today for:
Weekend dental appointments
Same-day or next-day dental visits
Treatment for dental emergencies
High-quality dental care from accredited providers
Payment with cash, cards, or private PPO insurance
How Does Express Dentist Work?
Calls to the Express Dentist hotline 1-844-593-0591 are completely free of charge (there is no referral fee). When you call the toll-free number, you are connected to a weekend dentist nearby who can see you at short notice for a range of problems, including toothache, a knocked-out tooth, a broken denture, or a lost filling. You can also schedule a preventive dental checkup that you have been putting off because of your busy schedule on weekdays. And if you have an urgent dental issue that needs to be evaluated and treated, the Express Dentist hotline gives you immediate access to weekend dentists in your area.
Each of our partner providers is carefully vetted to ensure you get the highest quality of dental care. One phone call is all it takes to gain access to urgent dental treatment and same-day dental surgery on the weekends.
Common Dental Emergencies
Many people search for "weekend dentists near me" for routine dental care. However, sometimes, there is a dental emergency that cannot wait until your dentist's offices open on Monday morning. Here is a brief overview of some common dental emergencies and why you should not delay seeking care from a weekend dentist.
Tooth pain
Toothache can be very uncomfortable and is often severe enough that you need to see a weekend dentist nearby. One of the most common causes of toothache is tooth decay or dental cavities. Toothache that is accompanied by fever and has lasted more than 1-2 days should be checked out by a dentist as soon as possible. Without the proper treatment, the bacterial infection in the tooth can spread and form a dental abscess. 1 A weekend dentist can give you immediate pain relief. They can also perform more specific treatments for your toothache such as fillings, root canal, or tooth extraction.
Chipped Tooth
A chipped tooth is not a dental emergency as such but needs to be addressed sooner rather than later. This is because a chipped tooth can cause difficulty chewing and eating due to pain and sensitivity. The sooner a chipped tooth is treated, the better the outcome. A weekend dentist can repair a chipped tooth to relieve symptoms and restore chewing function. 2
Knocked-Out Tooth
If a tooth has been completely knocked out of your mouth, it is a dental emergency that needs to be treated by a dentist within one hour. If it is outside regular office hours, you should proceed to the nearest weekend dentist as soon as possible, taking your tooth with you (if you can find it). Dentists recommend that you hold the knocked-out tooth by the crown (the visible white part), rinse it with clean water, and try to put it back in place in your mouth if you can, biting down on a clean handkerchief if you need to. (This should only be done for adult teeth and not for primary (milk) teeth that have been knocked out from a child's mouth). The Express Dentist hotline 1-844-593-0591 can connect you to an after-hours or weekend dentist with one quick phone call.
Dental Abscess
A dental abscess or tooth abscess is a condition in which infected material (pus) accumulates inside a tooth. This often happens in the advanced stages of untreated dental caries. The bacterial infection spreads to the soft inner pulp of the tooth, causing severe throbbing pain, sensitivity, and fever. A weekend dentist can give you pain relief from a tooth abscess as well as more specific treatment such as a root canal. It is important not to delay treatment for a tooth abscess as it can lead to severe complications. 3
Dental Trauma
People who have suffered facial trauma should go to the nearest ER for a thorough evaluation. However, if the injury is limited to the mouth and is relatively minor, for example, a chipped tooth, this can easily be fixed by a weekend dentist in your community. 4 The Express Dentist hotline will connect you to an after-hours/late-hours or weekend dental clinic near you, so you can be evaluated and treated for your injuries. It is worth remembering that some dental injuries are not obvious, so it is critical to be evaluated by a dentist who will check your teeth and gums and detect any bleeding or other serious hidden complications.
Broken Dentures
If you wear a denture and it has, unfortunately, broken, you should not attempt to fix it yourself with household supplies. This is because not all glues are okay for consumption and household glues can cause sickness. Also, household glues may damage your denture, causing discomfort when you wear it in the future. If you have a broken denture, it's best to see your dentist as soon as possible to get it fixed. If it is a Saturday or Sunday and your regular dental clinic is closed, you can call the Express Dentist hotline 1-844-593-0591 and schedule an appointment with a weekend dentist for denture repair.
Lost Fillings
If a filling has fallen out, you should call your dentist and schedule an appointment ASAP to replace it. This is important to protect the exposed tooth from damage. It is a good idea to save the filling if you can, because your dentist may be able to re-use it. Salt water gargles in the meantime with 1/2 a teaspoon of salt in a glass of warm water can help kill bacteria in the mouth and dislodge any food debris from the affected tooth. If you are in pain and it's the weekend and your regular dentist cannot see you until the following week, a weekend dentist can easily fix the problem.
Frequently Asked Questions
Can I just walk in to a weekend dental clinic?
Some weekend dentists do accept walk-in patients. However, it is always worthwhile to call before you go. The Express Dentist hotline 1-844-593-0591 will put you in touch with weekend dentists nearby who see patients at short notice for dental emergencies or offer same-day appointments for regular or non-emergency care.
Can urgent care pull a tooth?
The staff at an urgent treatment center can sometimes pull a tooth, but it is always better to get it done by a dentist who has specialist training with this type of procedure. Getting the tooth extraction done by a highly trained professional in a well-equipped dental office will not only ensure the procedure is as pain-free as possible but will also reduce your risk of complications.
Can you go to the ER for a dental emergency?
You can go to the ER for a dental emergency, for example, if you have a toothache and it is the weekend and your regular dentist's offices are closed. However, ER doctors usually prescribe pain pills and antibiotics for a problem such as toothache. They often do not specifically treat the cause of the pain. A weekend dentist, on the other hand, will not only offer you pain relief but also treat the root cause of the problem with specific treatments such as a root canal or extraction. It is worth remembering, however, that if you have severe pain that is spreading across the face or neck or uncontrolled bleeding, you should go to the ER for a thorough evaluation.
Finding High-Quality Weekend Dental Care
Finding a weekend dentist is as easy as 1-2-3 with the Express Dentist hotline. 1) Call the toll-free number 1-844-593-0591 any time of day or night, any day of the week and speak to a partner provider in your community. 2) Schedule an appointment for the same day or next day and get professional dental treatment without delay. 3) Pay for your treatment with cash, credit cards, or private PPO insurance. That's it. Getting a weekend dental appointment has never been as easy as this.
The Express Dentist hotline operates 24 hours a day on all days of the week including Saturdays, Sundays, and holidays. Call 1-844-593-0591 today and get instant access to weekend dentists in your city.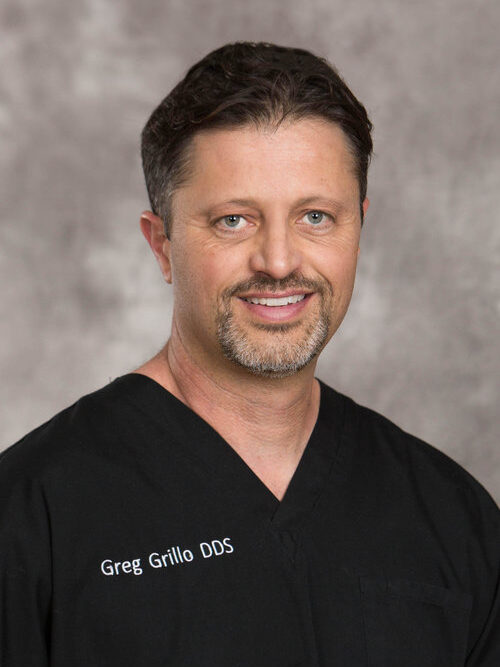 Dr. Greg Grillo DDS studied at the University of Washington where he received a bachelors degree with Honors and later attended dental school on the same campus. Following school Dr. Greg served in the United States Navy as a dental officer. During this time he received advanced training in specialty areas of dentistry while also treating families of members of the military.
As well as sharing valuable information on dentistry and oral health, Dr. Greg remains a practicing dentist to this day. He works with families in the Okanogan Valley where he lives with his wife and three children.