Orthodontic treatment with braces is typically provided between the ages of 10 and 14 years. However, more and more adults are getting their teeth aligned with braces to correct problems like overcrowding, gapping, or crooked teeth. Braces can give you a beautiful, healthy smile and boost your self-confidence. But what if you also want a brighter, whiter smile? Read on to find out how you can whiten teeth with braces.
Why are my teeth turning yellow with braces?
Braces can make it harder for you to keep your teeth clean. Over time, this can lead to the deposition of plaque and tartar on the surfaces of your teeth, which can give them a yellow discoloration.
What are the different options for teeth whitening?
You can whiten your teeth with the following methods:
Whitening strips: These are available at most pharmacies and online. They cost $30-$50 for a 30-day supply. You apply the whitening strips on the surface of your teeth for around 45 minutes once or twice daily. It's worth noting that these products contain a bleaching agent that may cause gum irritation.
Whitening trays: These cost approximately $40 for home-use kits and $100 in a dental office. A small amount of whitening gel is placed in a tray which is inserted into your mouth for 30-60 minutes. You need to repeat the treatments every 2-3 weeks until you get the desired results.
Whitening toothpaste and mouthwash: This is an inexpensive way to whiten teeth. Most whitening toothpastes and mouthwashes cost approximately $15 for a three-pack. Make sure you choose products that are not abrasive or they could cause gum irritation and tooth sensitivity.
Electric toothbrush: An electric toothbrush costs anywhere from $20 to $100. It can help to remove surface stains better than a regular toothbrush. However, the rapid movement of the brush head can be uncomfortable for some people with sensitive gums or teeth.
Laser Dentistry: This is a more advanced method of teeth whitening in which a dentist uses a laser device to activate the whitening gel.
Can I whiten my teeth while I have braces?
It depends on the type of braces you wear and the teeth whitening product you are planning to use. If you wear clear removable aligners or lingual braces, you can white teeth with braces using whitening strips, whitening trays, whitening toothpaste, and/or an electric toothbrush. Keep in mind that whitening trays may not fit well if you have lingual braces. Always check with your orthodontist before choosing specific brands of whitening products.
If you wear traditional braces, you'll have to wait until they come off before you can use teeth whitening strips or trays. Using these products to whiten teeth with braces can lead to uneven whitening, leaving you with two-toned teeth once your braces come off. You can, however, use a whitening toothpaste and/or an electric toothbrush to whiten teeth with braces (traditional ceramic or metal braces). Again, check with your orthodontist before using any new product. For example, you may need to purchase special heads for your electric toothbrush if you wear braces.
How can I get my teeth whiter fast with braces?
If you wear traditional braces and want whiter teeth, consider using a whitening toothpaste, mouthwash, and electric toothbrush. Pay close attention to oral hygiene and spend at least 2 minutes brushing your teeth twice a day. Do your homework before choosing a toothpaste. For instance, did you know that dentists do not generally recommend charcoal toothpastes for whitening?
What are some home remedies to whiten teeth with braces?
Home remedies like diluted hydrogen peroxide, baking soda, and oil pulling are generally safe. Nonetheless, you avoid these home remedies to whiten teeth with braces. These substances can damage metal or ceramic braces or cause other problems like teeth sensitivity. If you decide to go ahead and try one of these remedies, make sure you check with your dentist first.
Express Dentist has a nationwide network of trusted dental professionals. If you have misaligned, overcrowded, gapped, or crooked teeth and want to do something about it, call us and we will put you in touch with an experienced orthodontist in your area. If you are already undergoing orthodontic treatment and want to whiten teeth with braces, make sure you check with your dentist before trying any teeth whitening products.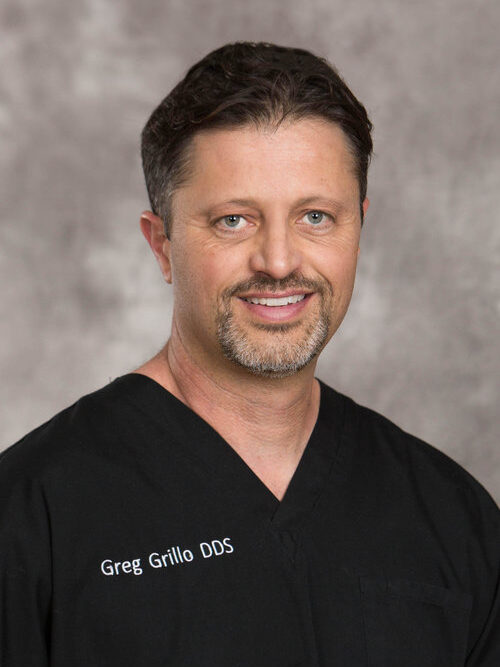 Dr. Greg Grillo DDS studied at the University of Washington where he received a bachelors degree with Honors and later attended dental school on the same campus. Following school Dr. Greg served in the United States Navy as a dental officer. During this time he received advanced training in specialty areas of dentistry while also treating families of members of the military.
As well as sharing valuable information on dentistry and oral health, Dr. Greg remains a practicing dentist to this day. He works with families in the Okanogan Valley where he lives with his wife and three children.