A general or family dentist can provide dental care for the whole family. It is rather convenient for everyone to see the same provider. But just like orthodontists and periodontists are specialists, a pediatric dentist is a specialist in children's dentistry. Continue reading to learn more about pediatric dentistry. Find out why it is a good idea to take your child to see a pediatric dentist.
What is a pediatric dentist?
A pediatric dentist is a dentist who has received special training in providing oral healthcare to children, starting from infancy and lasting up to the teen years. Pediatric dentists are qualified to care for the teeth, gums, and mouth during the various stages of childhood.
As you know, the first milk teeth begin erupting in babies at around 6 months of age. By the age of 6 or 7 years, children lose their milk teeth and replace them with permanent teeth. Without specialized and proper dental care, a child can develop decay and disease at any stage of their childhood, leading to a lifetime of dental complications, pain, and expensive dental treatments.
Although family dentists can provide care to maintain a child's oral health, pediatric dentists are better qualified to do so. This is because after 4 years of dental school, pediatric dentists undergo two additional years of training in childhood dentistry to treat problems that are specific to infants, toddlers, young children, and teens.
Why does my child need to see a pediatric dentist?
You may be surprised to know that while the incidence of dental caries, a common childhood oral health problem, has declined in school-aged children since the 1970s, the rate of dental caries has increased in toddlers aged 2 to 5 years. According to the Centers for Disease Control and Prevention (CDC), early childhood caries is seven times more common than hay fever and five times more common than asthma in preschoolers. One study found that caries is common even among older kids, with nearly 1 in 3 third-graders having untreated tooth decay. 1
Timely intervention by a pediatric dentist can help prevent tooth decay and dental caries, which is a common but entirely preventable condition. But pediatric dentists treat more than just dental cavities. They provide comprehensive oral health care including:
Regular oral exams for risk assessment.
Preventive dental care including fluoride treatments and professional cleaning.
Repair of dental caries.
Management of gum disease in children (pediatric periodontal disease).
Diet and nutrition counseling.
Recommendations for habits such as pacifier use and thumb sucking.
Assessment and treatment for improper bite and crooked teeth (orthodontics).
Diagnosis of dental conditions associated with diseases such as diabetes, asthma, ADHD, and congenital heart defects.
Care for dental trauma (knocked-out tooth, displaced tooth, chipped tooth).
Specialty oral care for children with special health needs.
At what age should a child begin seeing a pediatric dentist?
According to the American Academy of Pediatric Dentists, you should take your child for their first dental check-up when the first milk tooth appears. In any case, the first appointment with a pediatric dentist should be no later than your kid's first birthday.
How often does my child need to visit a pediatric dentist?
The general recommendation is for a check-up every six months. However, each child is unique. The pediatric dentist will advise you about how often your child needs to visit based on their individual oral health status. 2
What is a pediatric dental emergency?
For many children, a dental emergency is their first dental visit. The reasons for seeking emergency dental care vary, with the most common reasons being: 3
Toothache due to caries.
Pain and sensitivity due to early childhood caries.
Dental trauma.
Tooth eruption difficulties.
Soft tissue diseases (childhood gum diseases).
Problems with orthodontic appliances such as brackets and spacers.
Lost restorations such as fillings.
Frequently Asked Questions
What should I do if my child knocks-out a tooth?
A knocked-out tooth is a dental emergency and you should proceed to the nearest pediatric dentist as soon as possible, ideally within 30-60 minutes. Try to remain calm and find the tooth. Hold the tooth by the crown (the visible white part) and rinse it with clean water. If it is a permanent tooth, attempt to place it back in the tooth socket in the mouth. (You should not do this if the knocked-out tooth is a milk tooth). If it is not possible to place a permanent tooth back in the child's mouth, save the tooth in a glass of milk and take it along with you to the pediatric dentist's office.
How can I prevent tooth decay in my child?
Healthy eating habits and good oral hygiene with regular brushing and flossing are the keys to preventing tooth decay in children. Children should also visit a pediatric dentist regularly, starting at the time the first milk tooth erupts as a baby.
At what age should I start brushing my baby's teeth?
You should start practicing dental hygiene on your baby's teeth as soon as the first milk tooth erupts. Gently brush your baby's teeth with a smear of fluoride-containing toothpaste and an age-appropriate toothbrush. Toddlers (kids between ages 3 and 6) can use a small dollop of toothpaste and may start brushing their own teeth, though younger kids may require assistance. Remind your child to spit out the extra toothpaste after brushing.
Are dental X-rays safe for children?
In some instances, your pediatric dentist may order a dental X-ray on your child to see what's going on beneath the surface. In general, dental X-rays are safe with minimal risk to your child. Pediatric dentists use the bare minimum amount of radiation and use protective equipment such as lead aprons to ensure safety.
How can I protect my child's teeth during sporting events?
If your child participates in contact sports, it is very important to use the recommended protective equipment. Soft plastic mouthguards help to protect the lips, teeth, gums, and mouth from sports-related dental injuries. A pediatric dentist can make a custom-fitted mouthguard for your child, which should be used along with a helmet to prevent severe head and dental injuries.
Does my child need fluoride supplements?
Most children do not need fluoride supplements. This is because drinking water and toothpastes contain enough fluoride to maintain healthy teeth. However, if your child drinks primarily bottled water (unlike tap water, bottled water does not contain fluoride) or if the source of drinking water is deficient in fluoride, your pediatric dentist may recommend a fluoride supplement for your child.
What kind of diet should I give my child that is safe for his or her teeth?
A healthy, balanced diet with a range of food groups including fruits, vegetables, wholes grains, poultry, meat, fish, eggs, and dairy products is recommended for oral health as well as overall growth and development of children. To protect your child's teeth from decay, limit sugary and starchy foods and discourage snacking between meals. Your pediatric dentist can give you more information on selecting nutritious and delicious foods that also protect children's teeth.
Finding a Pediatric Dentist Near Me
There's a saying in medicine – children are not just small adults. The same holds true for dentistry. A pediatric dentist offers a wide range of treatments and preventive care for oral health concerns that are specific to children. They have the expertise and training to deal with common childhood dental problems of the teeth, gums, and mouth. In short, a pediatric dentist can provide your child with the best possible dental care.
The Express Dentist hotline 1-844-593-0591 makes it easy to find a pediatric dentist near you. This is a toll-free number that makes finding a pediatric dentist simple. We have partnered with leading pediatric dentists in your community. All you have to do is make one quick phone call and speak to a children's dentist in your hometown. You can get same-day appointments or next-day appointments, including weekends and after hours. The hotline operates 24 hours a day 7 days a week.
Call the Express Dentist hotline 1-844-593-0591 today for:
Weekend pediatric dental appointments
Same-day or next-day dental visits for infants, toddlers, young children, and teens
Treatment for pediatric dental emergencies
High-quality pediatric dental care from accredited providers
Payment with cash, cards, or private PPO insurance
All calls to the Express Dentist hotline 1-844-593-0591 are free (there is no referral fee). When you call the toll-free number, you are connected to a pediatric dentist who can see your child on short notice for common problems such as toothache, dental caries, and lost fillings, as well as dental emergencies such as a knocked-out tooth. You can also schedule a preventive pediatric dental checkup.
The Express Dentist hotline gives you instant access to leading pediatric dentists in your city with a quick, convenient phone call any time of day or night, any day of the week. Each of our partner pediatric dentists is carefully vetted to ensure your child receives the highest quality of oral health care. Call the Express Dentist hotline at 1-844-593-0591 today and find a pediatric dentist near you.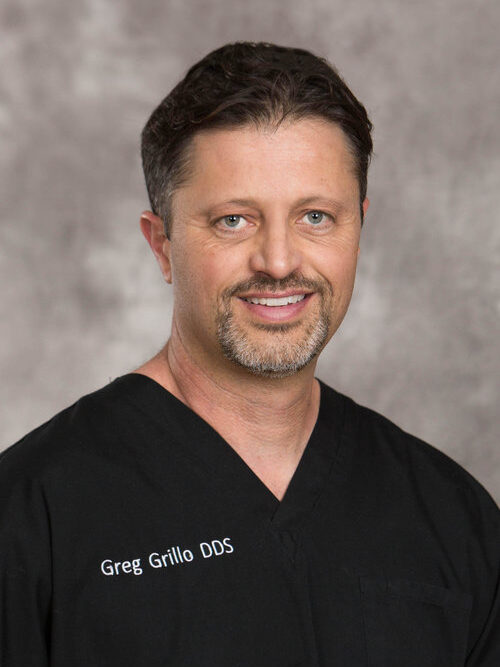 Dr. Greg Grillo DDS studied at the University of Washington where he received a bachelors degree with Honors and later attended dental school on the same campus. Following school Dr. Greg served in the United States Navy as a dental officer. During this time he received advanced training in specialty areas of dentistry while also treating families of members of the military.
As well as sharing valuable information on dentistry and oral health, Dr. Greg remains a practicing dentist to this day. He works with families in the Okanogan Valley where he lives with his wife and three children.
Ramos-Gomez FJ, Crystal YO, Ng MW, Crall JJ, Featherstone JD. Pediatric dental care: prevention and management protocols based on caries risk assessment [published correction appears in J Calif Dent Assoc. 2010 Nov;38(11):790]. J Calif Dent Assoc. 2010;38(10):746-761. Available online. Accessed on May 29, 2021.
American Academy of Pediatric Dentists. Frequently Asked Questions. Available online. Accessed on May 29, 2021.
Agostini FG, Flaitz CM, Hicks MJ. Dental emergencies in a university-based pediatric dentistry postgraduate outpatient clinic: a retrospective study. ASDC J Dent Child. 2001 Sep-Dec;68(5-6):316-21, 300-1. PMID: 11985190. Available online. Accessed on May 29, 2021.