Mesa Dental
1423 S Higley Rd #101, Mesa, AZ 85206, United States
+1 480-396-9900
Mon 8 AM – 5 PM
Tues 8 AM – 5 PM
Wed 8 AM – 5 PM
Thurs 8 AM – 5 PM
Fri 7 AM – 2 PM
Sat Closed
Sun Closed
Eastport Dental
1905 E McKellips Rd, Mesa, AZ 85203, United States
+1 480-571-3959
Mon 8 AM – 5 PM
Tues 8 AM – 5 PM
Wed 9 AM – 6 PM
Thurs 8 AM – 5 PM
Fri 7 AM – 4 PM
Sat Closed
Sun Closed
Arizona Advanced Dental
3048 E Baseline Rd, Ste 128, Mesa, AZ 85204, United States
+1 480-504-1099
Mon 7 AM – 5 PM
Tues 7 AM – 6 PM
Wed 7 AM – 5 PM
Thurs 7 AM – 6 PM
Fri 7 AM – 4 PM
Sat 7 AM – 2 AM
Sun Closed
Dental emergencies can happen to anyone, bringing life to a grinding halt. In such circumstances, you need a dentist who can see you after hours or work around your busy schedule. That's where Express Dentist comes in. Need a dentist now? Want a dental office that's open late hours in Mesa, Arizona? Looking for affordable dental care? Call the Express Dentist toll-free hotline 1-844-593-0591 for:
24-hour dental services in Mesa, AZ
After-hours and weekend dental clinics in Mesa
Emergency dental procedures
Top-rated Mesa dentists
Pay with cash, credit cards, or private PPO insurance
What is Express Dentist? How Does It Work?
Express Dentist is a toll-free hotline that is available 24/7 for dental referrals in Mesa. Calls to the hotline are completely free of cost. We have partnered with leading dentists in Mesa to bring you high-quality dental care when you need it, where you need it. Whether you need a 24-hour dentist nearby or same-day dental surgery for a dental emergency, the Express Dentist hotline is the quickest and easiest way to connect with dental services providers in your area.
Each of the Express Dentist partners is vetted to ensure you get the best dental care in Mesa. When you choose an Express Dentist partner, you are assured of:
Professional dental care
Emergency dental services from accredited practitioners
Same-day dental surgery in Mesa
Affordable prices
Express Dentist is your trusted source for dental referrals. Call 1-844-593-0591 today to get instant access to emergency dental care in Mesa. Our 24-hour hotline is open every day, including weekends and holidays. Calls to the hotline are free, so there's no additional cost for the referral. With up-to-date listings, Express Dentist gives you immediate access to leading emergency dentists in Mesa.
If you are suffering from toothache, have a knocked-out tooth, or need any type of emergency dental services in Mesa, you don't have to wait to get relief from your symptoms. Simply call the Express Dentist hotline at 1-844-593-0591 and get the help you need. You can get emergency dental care in Mesa even if you don't have dental insurance (by paying out-of-pocket).
Common Conditions Requiring Emergency Dental Care
Some of the common dental problems that may require emergency care are listed below.
Toothache
A toothache can be very uncomfortable. A walk-in dentist in Mesa can see you immediately and give you the relief you need. A common cause of toothache is dental caries. This is a destruction of the enamel and dentine of a tooth by bacteria. Without the appropriate treatment, the infection from a dental caries can spread and lead to the formation of a tooth abscess. Getting dental care as soon as possible can reduce the risk of complications. A late-hours dentist in Mesa can prescribe antibiotics and pain medicine. They can also drain an abscess, if present. At a later time, the dentist may recommend extracting the affected tooth or performing a root canal. 1 If you have had a toothache that has not gotten better with over-the-counter pain pills, you've had it for 2 days or more, and/or you have fever along with your toothache, it is important to see an emergency dentist in Mesa as soon as possible.
Cracked or Chipped Tooth
A chipped or cracked tooth is a common problem that can cause symptoms such as pain and hot and cold sensitivity. It's important to get a chipped tooth treated as soon as possible. The sooner you get treatment, the higher the chances that a dentist can restore your tooth to normal function. An after-hours dentist in Mesa can repair your chipped tooth with bonding. They can also reattach a broken fragment. 2 Do not delay getting treatment. Call Express Dentist now on 1-844-593-0591 to find the nearest emergency dentist in Mesa. The hotline is open 24/7.
Knocked Out Tooth
A knocked-out tooth is a dental emergency. If a tooth has been knocked out and you can find it, hold it by the crown (the white portion that projects above the gum). Rinse the tooth with water and try to place it back in position (this is recommended for adult teeth only, never for milk teeth in children). If needed, bite down on a clean handkerchief to keep the tooth in place and make your way to the nearest emergency dental clinic.
Lost Crown or Filling
A lost filling or crown is a common complaint for which people seek after-hour dentists in Mesa. If you have had a dental filling fall out, it's important to see a dentist as soon as possible. Without replacement, there can be further damage to your tooth which is now unprotected.
Tooth Abscess
A tooth abscess is an infection of the soft inner part of a tooth. It can cause severe throbbing pain with chewing, biting, or even touching the area, along with other symptoms like fever, hot/cold sensitivity, bad taste, and difficulty opening the mouth or swallowing. A dental abscess requires urgent care to avoid serious complications.
Dental Trauma
Dental injuries require a thorough dental examination and urgent care. The injury could be minor, such as a chipped tooth which can be easily remedied, or a dental emergency like a knocked-out tooth. The important thing is to avoid any delays in seeking treatment. The Express Dentist hotline 1-844-593-0591 puts you in touch with emergency dentists in Mesa so you can get the help you need without delay.
Finding Emergency Dental Services in Mesa
The Express Dentist helpline 1-844-593-0591 is open 24 hours a day, 7 days a week. It's the easiest way to find emergency dentists in your area and get an after-hours dental appointment in Mesa. If you need high-quality dental care, don't look any further than Express Dentist. Call today and connect with dentists who are open late hours including weekends. Get affordable dental care in Mesa from 24-hour on-call dentists. All it takes is a quick phone call and you are on your way to getting the emergency dental care you need.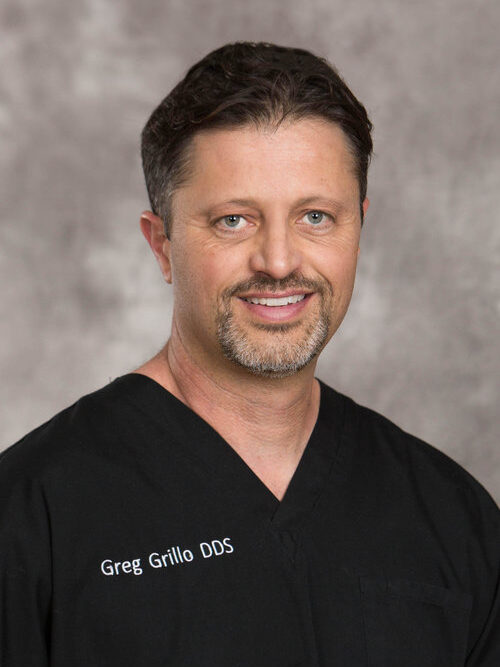 Dr. Greg Grillo DDS studied at the University of Washington where he received a bachelors degree with Honors and later attended dental school on the same campus. Following school Dr. Greg served in the United States Navy as a dental officer. During this time he received advanced training in specialty areas of dentistry while also treating families of members of the military.
As well as sharing valuable information on dentistry and oral health, Dr. Greg remains a practicing dentist to this day. He works with families in the Okanogan Valley where he lives with his wife and three children.
American Family Physician. Common Dental Emergencies. Available online. Accessed on April 10, 2021.
American Association of Endodontists. Cracked Teeth. Available online. Accessed on April 10, 2021.