The average American adult with good overall dental health (only a few small problems like cavities) spends $1,000 a year on dental care without insurance. National dental expenditures in the United States are around $130 billion a year and growing. Driving this growth are an ageing American population, an increased demand for cosmetic dentistry, and advancements in dental technology. Yet, in recent times, the coronavirus disease has been a challenging time for dentistry in the United States – more than 198,000 dental offices and active dentists shut down during the COVID-19 pandemic.
We've compiled some interesting facts and figures on the U.S. dental industry and oral health in America for 2022. Some of this information might surprise you, and some of it might make you appreciate your teeth even more.
Statistics on Oral Health in the U.S.
75% of American adults plan to visit a dentist in the coming year.
65% of adults aged 18 and over had a dental visit within the past year.
87% of people say that poor oral health has a negative impact on life.
Over 90% of Americans understand it's important to keep your mouth healthy and that seeing a dentist regularly can accomplish this.
7 out of 10 Americans brush their teeth twice a day.
23% of Americans admit to skipping brushing for two or more days.
The average American spends 45-70 seconds brushing their teeth. The recommended time is 2-3 minutes.
One-third of Americans floss every day, one-third floss occasionally, and one-third never floss.
20% of people floss only when they have food stuck in their teeth.
People from low-income groups are more likely to skip flossing.
30% of Americans worry about halitosis (bad breath).
1 out of 2 people in the U.S. have a good understanding of oral health – they answered 8 questions correctly on a test.
U.S. Dental Health Statistics by Age and Gender
Children and Adolescents
1 out of 2 children aged 2-17 years is offered advice from their healthcare provider about the need for a dental visit.
Approximately 64% of children aged 2-4 years, 92% of children aged 5-11 years, and 90% of adolescents aged 12-17 years have had dental visits in the past year.
On average, 85% of children aged 2-17 years had a dental visit in the past year.
Kids miss more than 50 million hours of school each year because of dental problems.
If a child's first dental visit is at 4 years or younger compared to 4 years or older, the parents save an average of $360 over 8 years.
4 out of 10 American children have tooth decay before they start kindergarten.
Among children aged 2-5 years, 18% have caries and 5% have untreated caries.
Among children aged 6-11 years, 45% have caries and 15% have untreated caries.
Among children aged 12-19 years, 54% have caries and 13% have untreated caries.
Among children aged 2-19 years, 43% have caries and 13% have untreated caries.
Over 13% of children aged 5-19 years have untreated dental caries.
14% of teenagers (1 in 7) aged 12-19 have at least one tooth with a cavity.
Kids from low-income families have twice the risk of tooth decay than kids from higher income families. The prevalence of dental caries is nearly 52% in youth from families below the federal poverty level. Compared to this, the prevalence is 34% in families with income levels over 300% of the federal poverty limit.
Similarly, untreated caries in youth from lower income families is around 18% compared to 7% in youth from higher income families.
Among children aged 2-19 years, the prevalence of dental caries is highest among Hispanics (52%) compared to around 44% in Asians and Blacks and 39% in Whites. However, the prevalence of untreated dental caries is highest in Blacks (17%) compared to 10-13% in Asians, Hispanics, and Whites.
6% of Hispanics, 4% of Blacks, 3% of Asians, and 3% of Whites report cost barriers as the main reason for not obtaining dental care for children.
80% of cavities in children can be prevented with dental sealants.
Young Adults and Middle-Aged Adults
91% of people brush their teeth at the bathroom sink. Younger adults are more likely to brush in the shower.
1 in 4 adults aged 20-44 has untreated dental caries.
37% of adults aged 18-24 admit to skipping two days of teeth brushing.
64% of people aged 18-44, 68% of people aged 45-64, an 63% of people aged 65+ report a dental visit in the past year.
Older Adults
20% of older adults are edentulous (have lost all their teeth).
2 out of 3 older adults have gum disease.
96% of adults over the age of 65 have had cavities.
People over the age of 75 are less diligent about flossing than younger individuals.
Gender
69% of males report a dental visit in the past year versus 63% of females.
Men are more likely to develop periodontal (gum) diseases (56%) than women (38%).
Women are at a higher risk of dental caries (92%) versus men (90%).
Women floss more often and are more embarrassed by tooth loss than men.
Women are more likely to receive professional dental care, more likely to comply with recommendations from a dentist, and have greater awareness about oral health than men.
Dental Facts and Figures by State
The U.S. national average for the number of people who have been to a dentist within the past year is around 67%. The healthiest state is Connecticut with over 76% of people reporting a past-year dental visit. The least healthy state is Mississippi with around 54% of people reporting a dental visit in the past year.
Dental coverage is highest in the New England area (57%) and lowest in South-Eastern and South-Central United States (45%).
Almost 30% of people with dental coverage in Texas, Arkansas, Louisiana, and Oklahoma have not seen a dentist in the past year. In contrast, only 14% of people with dental coverage in Massachusetts, New Hampshire, Connecticut, and Rhode Island have not had a past-year dental visit.
On a 10-point scale developed by the American Dental Association for ideal oral health, Illinois scored the highest at 8.6 and Alaska scored the lowest at 7.2.
Statistics on Dental Diseases in the U.S.
Tooth Decay and Gum Disease
More than 80% of people have at least one cavity in their mouth by age 34.
Over 40% of adults report mouth pain in the past year.
Roughly 25% of adults in the U.S. have untreated tooth decay.
Approximately 40-50% of American adults over age 30 have periodontal (gum) disease.
About 70% of American adults over age 65 have periodontal (gum) disease.
About 9% of adults have severe gum disease.
People with gum disease are at 2-3 times higher risk of developing serious cardiovascular disease.
65 million Americans have periodontitis, gingivitis, or some form of gums disease.
Among people with gum disease, 56% are men and 38% are women.
Cosmetic Concerns and Oral Health
90% of bad breath is linked to oral health problems like infections and gum disease.
14% of Americans report missing social events because they're unhappy with their smile.
25% of low-income adults report avoiding social activities due to cosmetic concerns about their teeth.
Nearly 1 in 4 older adults over age 75 is edentulous (toothless). The prevalence of toothlessness higher in low-income groups (13%) and among those who did not graduate high school (15%).
Oral Cancer
45,000 Americans receive a diagnosis of oral and pharyngeal cancer every year (2016 figure).
More than 10,000 Americans died from cancer of the mouth and throat between 1999 and 2017.
The 5-year survival rate for oral cancer is 61%. The death rate is nearly three times higher in males than in females (4 vs 1.4 in males and females for every 100,000 people).
The death rate from oral cancer is twice as high in Whites and Blacks compared to Hispanics (2.6 vs 1.5 per 100,000 people).
Dental Supplies Usage Statistics in the U.S.
95% of toothpaste sold in the U.S. contains fluoride.
Nearly 138 million Americans use regular toothpaste.
Some 66 million people use gel toothpaste.
72 million Americans use toothpaste 4 times a day or more.
38% of Americans prefer toothpaste that is organic or natural.
Close to 210 million Americans use manual toothbrushes.
118 million people use medium bristle toothbrushes.
Roughly 4.5 million people use powered toothbrushes at least 5 times a week.
201 million Americans use a mouthwash regularly.
18 million Americans use mouthwash at least twice a day.
32 million Americans use teeth whitening dental products.
Crest 3 Whitestrips, a leading tooth whitening brand, had close to $80 million in sales in 2018.
Nearly 2 million people in the U.S. spend more than $250 on dental products in 3 months. Approximately 170 million Americans spend under $50 in 3 months on oral care products, however.
Some 16 million Americans use a denture cleaner at least 8 times a week.
In 2019, Americans spent $30 million on brand name dental floss.
13.5 million people use store brand flossing products 8 times a week or more.
61% of Americans admit to using fingernails, 21% admit to using cutlery, and 21% admit to using strands of hair or safety pins to remove food stuck between their teeth.
75% of Americans do not regularly change out their toothbrush.
Facts and Figures on U.S. Dental Professionals
Dentists
In 2020, there were around 201,000 dentists in the U.S.
There are 61 dentists per 100,000 population. This is projected to increase to 67 per 100,000 by the year 2040.
Employment of dentists is growing at a rate of 7% annually with more than 11,000 dentist jobs being added between 2018 and 2028.
Roughly one-third of the dentists in the U.S. are females.
1 in 5 dentists in the U.S. is a specialist.
Among the dentists in the U.S., 17% are under the age of 35 years, 24% are between 35 and 44 years, 21% are between 45 and 54 years, 21% are between 55 and 64 years, and 16% are over the age of 65 years.
On average, dentists in the U.S. retire at around 68 years of age.
It takes 10-14 years of education and training to become a dentist (4 years undergraduate education, 4 years dental school, 2-6 years residency and training in dental specialties).
The national average wage for a dentist in the U.S. is $175,000 per year, which is more than three times higher than the average annual salary for all occupations ($52,000).
Dentist salaries vary greatly by state, ranging from $200,000 per year to $50,000 per year. The top states for dentist salaries are Delaware ($265,000), Alaska ($260,000), and Rhode Island ($255,000). The lowest paying states for dentist salaries in the U.S. are Louisiana, Wyoming, and Nebraska (average $125,000).
Dental Hygienists
There are approximately 150,000 registered dental hygienists in the U.S.
98% of dental hygienists are female.
Dental hygienists receive over 2,000 hours of classroom instruction with 600 hours of practical hands-on training.
Over 95% of adults in the U.S. who are treated by a dental hygienist without a dentist present on the premises are satisfied with the care they receive.
Statistics on Access to Dental Healthcare in the U.S.
53 million Americans have limited access to dental care due to a shortage of dental health professionals in the areas where they live.
The number of dentists per 100,000 population is highest in Washington D.C. (103) and lowest in South-Eastern United States (45 per 100,000). The national average is 61.
40% of people quote the cost of dental care as the primary reason for not wanting to visit a dentist. 14% say they don't see a dentist due to lack of time.
Nearly 1 in 3 Americans feels they do not need to see a dentist.
Impact of COVID-19 Pandemic on Dentistry
63% of patients are ready to go to a dentist, 27% have recently gone, 5% are seeking assurance, and 5% are waiting for a medical breakthrough before going to a dentist during the COVID-19 pandemic.
60% of parents tried to get preventive care for their child during the pandemic; 24% said they experienced a delay; 7% said they were unable to get an appointment. More parents with Medicaid (15%) were unable to get an appointment compared to private insurance (4%) and no insurance (5%).
67% of parents believe it is safe for their child to get dental care during the pandemic, 19% are unsure, and 14% feel it is unsafe.
16% of parents report their children are brushing more often during the pandemic and 15% say their children are drinking less sugary beverages.
65% of patients are willing to get vaccinated against COVID at the dentist.
Fun Facts About Teeth and Oral Health
Tooth enamel is the hardest substance in the human body, stronger than bone even.
The average human being produces between 0.5 to 1.5 liters of saliva in a day. That's enough saliva in a year to fill a swimming pool.
There are more than 700 different types bacteria in a healthy mouth.
The average person spends about 38 days (just over a month) brushing their teeth over a lifetime.
Like fingerprints, tooth prints are unique to each individual.
Dental floss is quite strong and durable. An inmate in West Virginia used it to braid a rope and escape from jail in 1992.
Left-handed folks tend to chew food on the left side of their mouth and vice versa.
Women smile on average 62 times a day. Men smile on average 8 times a day.
Kids laugh 400 times a day on average. Adults laugh 15 times a day on average.
Drinking 3 or more cups of a soda a day increases your risk of tooth decay by more than 60%.
If you don't floss, you miss cleaning 40% of the tooth surfaces.
Chewing gum for 20 minutes after every meal can help prevent tooth decay.
Humans have 32 permanent teeth, cats have 30, dogs 42, pigs 44, armadillos 104, and snails 25,000.
The average amount of money left by the tooth fairy was 25 cents in 1950, $1 in 1988, and the going rate is $5 currently.
The world's most valuable tooth belongs to Sir Isaac Newton. It was sold in London for just over $3,600 and set in a ring.
Dental History Facts
Hesi-Re, the world's first known dentist, lived in Egypt 5,000 years.
The first toothbrush was made from animal hair in China more than 500 years ago.
Dental floss was commercially sold for the first time in 1882.
Chapin Harris and Horace Hayden established the first dental school in the U.S., the Baltimore College of Dental Surgery, in 1840.
Lucy Hobbs Taylor (born 1833) was the first woman to receive a DDS degree in the United States in the year 1866.
Henry Bliss Noble was the first African American to earn a dental degree, graduating as part of the inaugural class of the School of Dentistry at Harvard University in 1869.
The first African American woman to earn a dental degree in the United States was Ida Gray Nelson Rollins in 1890. She graduated from the College of Dentistry at the University of Michigan.
Irene Newman became the first dental hygienist in the U.S. in 1905.
References: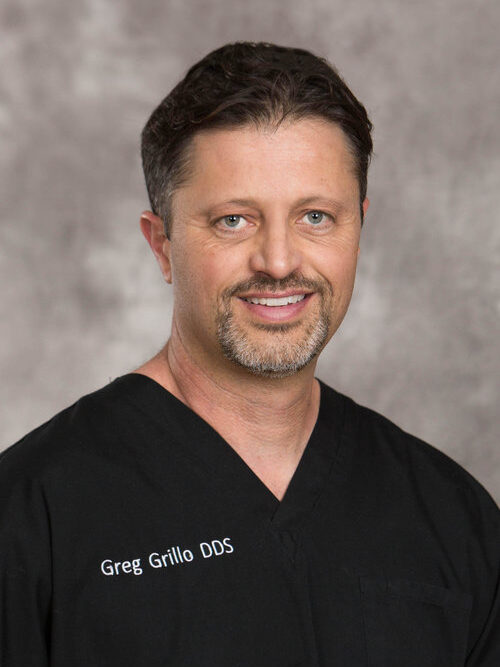 Dr. Greg Grillo DDS studied at the University of Washington where he received a bachelors degree with Honors and later attended dental school on the same campus. Following school Dr. Greg served in the United States Navy as a dental officer. During this time he received advanced training in specialty areas of dentistry while also treating families of members of the military.
As well as sharing valuable information on dentistry and oral health, Dr. Greg remains a practicing dentist to this day. He works with families in the Okanogan Valley where he lives with his wife and three children.