Montana City Dental
2 Market St, Montana City, MT 59634, United States
+1 406-443-5130
Mon 8 AM – 5 PM
Tues 8 AM – 5 PM
Wed 8 AM – 5 PM
Thurs 8 AM – 5 PM
Fri Closed
Sat Closed
Sun Closed
Cornerstone Dental Missoula
3111 Grant St, Missoula, MT 59801, United States
+1 406-543-7532
Mon 8 AM – 4:30 PM
Tues 8 AM – 4:30 PM
Wed 8 AM – 4:30 PM
Thurs 8 AM – 4:30 PM
Fri 8 AM – 4:30 PM
Sat Closed
Sun Closed
Butte Family Dental
820 Sampson St, Butte, MT 59701, United States
+1 406-565-4458
Mon 9 AM – 5 PM
Tues 9 AM – 5 PM
Wed 7 AM – 2 PM
Thurs 7 AM – 2 PM
Fri 7 AM – 2 PM
Sat Closed
Sun Closed
Smile Montana Urgent Dental Center
115 Commons Way, #102, Kalispell, MT 59901, United States
+1 406-314-6353
Mon 8 AM – 5 PM
Tues 8 AM – 5 PM
Wed 8 AM – 5 PM
Thurs 8 AM – 5 PM
Fri 8 AM – 5 PM
Sat Closed
Sun Closed
Severe toothache, abscessed tooth, knocked-out tooth, cut lip? Call Express Dentist at 1-844-593-0593 for an emergency dentist in Montana right away. We can get you same-day, after-hours, and weekend dental appointments in Helena, Bozeman, Billings, Missoula, Big Sky, Great Falls and dozens of other towns and cities across the state.
But we're not limited to Montana alone. Express Dentist is a 24-hour toll-free hotline that can get you an emergency dentist across the US, including Alabama, California, Idaho, and Florida. Call today for urgent dental care in popular cities nationwide such as Kansas, Raleigh, Omaha, and Colorado Springs.
Are there any referral charges for an emergency dentist in Montana?
There are no referral charges to get an appointment with an emergency dentist in Montana. Express Dentist offers instant access to hundreds of leading dental professionals in the US. all you have to do is call the toll-free number 1-844-593-0591 to access 24-hour emergency dental services across the country. Get relief from toothache, broken tooth, chipped tooth, knocked-out tooth, and other common dental problems without delay.
Lines are open 24 hours a day and all days of the week, including weekends and holidays. Friendly and helpful representatives are on standby to answer all your questions and help you get the dental care you need. We can connect you to top-rated dentists in your area for emergency dental surgery or routine dental care. Call Express Dentist on 1-844-593-0591 today.
What are the most common dental emergencies?
Some of the dental problems that can cause pain and other distressful symptoms are listed below. These are some of the problems for which people typically seek urgent attention:
Infected tooth
Bleeding or swollen gums
Mouth sores
Knocked out tooth
How to handle emergencies before you see an emergency dentist in Montana?
Infected tooth
Tooth decay due to bacteria in the mouth is a common cause of toothache. If left untreated, a tooth infection can develop inside the pulp of the tooth. This is called a tooth abscess. It can lead to complications like gum disease, nerve damage, and spread of infection to the jaw bone and other parts of the body. That's why it is important to seek care for an infected tooth from an emergency dentist in Montana sooner rather than later.
You can take over-the-counter pain medication at home for some temporary relief. But you should make an appointment with a dentist as soon as possible for definitive treatment. Dentists can offer antibiotics, prescription pain medications (stronger pain pills), and definitive treatments for tooth abscess like root canal and tooth extraction. Express Dentist can get you weekend and out-of-hours appointments with a 24-hour dentist in your area.
Bleeding or swollen gums
You can develop bleeding or swollen gums due to the buildup of plaque along the gum line. This can lead to a gingivitis (inflammation of the gums) with symptoms like swelling and bleeding. If the plaque is not removed, it can harden into tartar. Left untreated, gingivitis can progress to advanced gum disease called periodontitis which may involve the jaw bone. 1
You can reduce your risk of bleeding gums by practicing good oral hygiene and visiting the dentist every 6 months. It also helps to eat a balanced, healthy diet and to avoid too many sugary foods and drinks or snacking between meals. An emergency dentist in Montana can offer treatments like deep dental cleaning or scaling and root planing.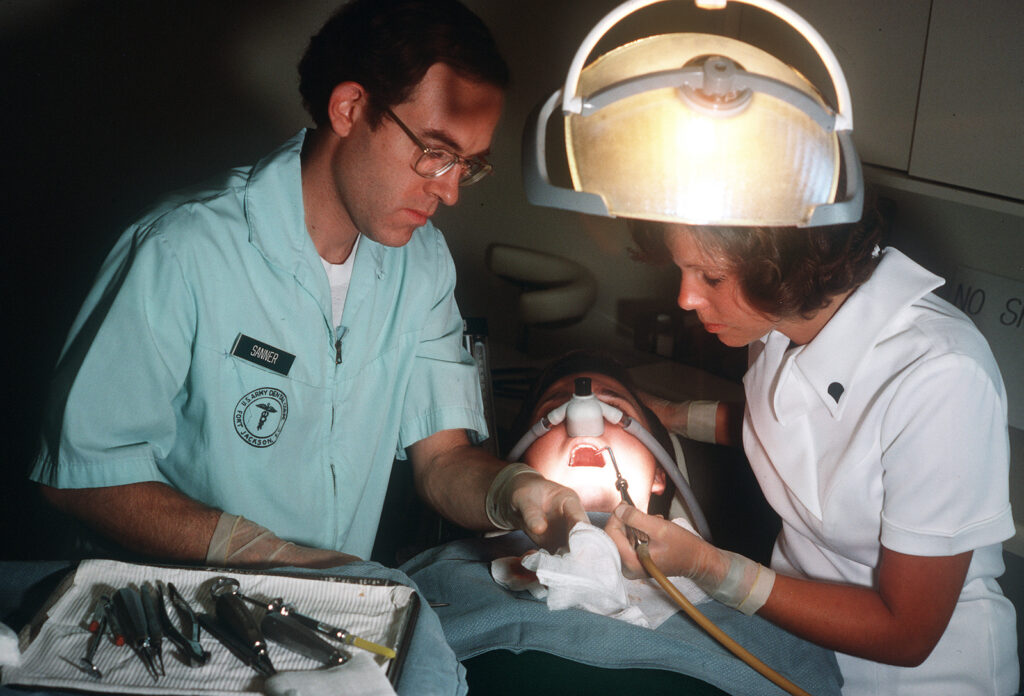 Mouth sores
Common causes of mouth sores include brushing too hard, irritation from orthodontics like braces, biting on the lip, tongue, or cheek, using tobacco products, stress, hormonal changes, and infections like herpes simplex virus (HSV) which can cause cold sores or canker sores. Home remedies for mouth ulcers include avoiding spicy or acidic foods, dabbing a small amount of Milk of Magnesia on the sore, and using a salt water rinse.
An emergency dentist in Montana can offer more definitive treatment, including antiviral medications. They may also give you topical products like benzocaine and hydrogen peroxide for pain relief. Express Dentist can get you an appointment with an emergency dentist near you. Simply call the toll-free number 1-844-593-0591 at any time of day or night for fast relief of symptoms.
Knocked-out tooth
A knocked-out tooth is a dental emergency. You should see an emergency dentist in Montana as soon as possible, ideally within 30-60 minutes. The chances of saving the tooth are higher the sooner you get in to see a dentist.
In the meantime, handle the tooth carefully. Pick it up by the chewing surface and rinse it with clean, cold water. Do not scrub the tooth or wrap it in cloth or tissue paper. Try to place the tooth back in its socket (permanent teeth only, never do this for baby teeth). Else, you can keep the tooth moist in a small amount of milk or saliva. Make your way to the emergency dentist as soon as possible. Express Dentist at 1-844-593-0591 can get you dental appointments on weekends, holidays, and out-of-hours.
What are the payment options for an emergency dentist in Montana?
Express Dentist has partnered with leading dental professionals across the country. You can pay an emergency dentist near you with cash, credit cards, or private PPO insurance. Keep in mind that dental insurance plans may not cover all dental emergencies. You may still have a copay or out of pocket expense. Many insurance plans have an annual limit. This means once you hit this limit, you are responsible for all further dental care costs that year.
Call Express Dentist at 1-844-593-0591 to find an emergency dentist in Montana who accepts your dental health plan. If you do not have dental insurance, you will need to pay for your consultation and treatment out of pocket. Some emergency dentists offer easy payment plans and financing options to make treatment affordable. Express Dentist can help you find high-quality affordable dental care from an emergency dentist in Montana near you.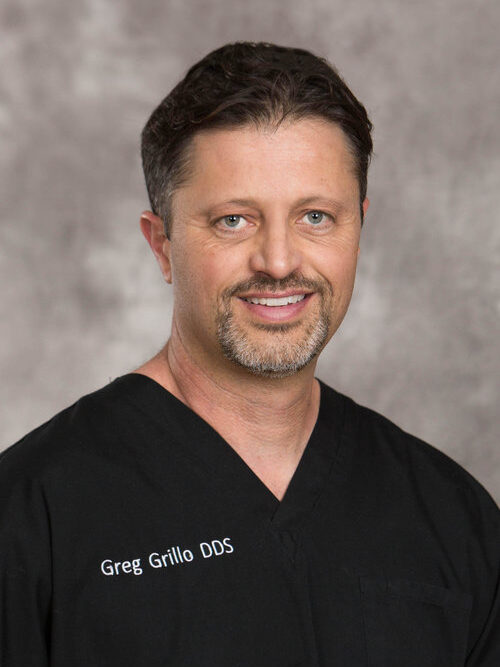 Dr. Greg Grillo DDS studied at the University of Washington where he received a bachelors degree with Honors and later attended dental school on the same campus. Following school Dr. Greg served in the United States Navy as a dental officer. During this time he received advanced training in specialty areas of dentistry while also treating families of members of the military.
As well as sharing valuable information on dentistry and oral health, Dr. Greg remains a practicing dentist to this day. He works with families in the Okanogan Valley where he lives with his wife and three children.
MedLine Plus. Bleeding Gums. Available online. Accessed on August 16, 2022.