Dental Clinic
550 E Rich St, #212, Columbus, OH 43215, United States
+1 614-379-0187
Mon 7 AM – 9 PM
Tues 7 AM – 9 PM
Wed 7 AM – 9 PM
Thurs 7 AM – 9 PM
Fri 7 AM – 9 PM
Sat 7 AM – 9 PM
Sun 7:30 AM – 5:30 PM
4th St Dental Studio
989 N 4th St, Columbus, OH 43201, United States
+1 614-310-4373
Mon 9 AM – 6 PM
Tues 10 AM – 7 PM
Wed 9 AM – 6 PM
Thurs 8 AM – 4 PM
Fri Closed
Sat Closed
Sun Closed
Emergency Dentistry
4662 W Broad St, Columbus, OH 43228, United States
+1 380-300-1821
Mon 9 AM – 5 PM
Tues 9 AM – 5 PM
Wed 9 AM – 5 PM
Thurs 9 AM – 5 PM
Fri 9 AM – 5 PM
Sat Closed
Sun Closed
What are the advantages of calling Express Dentist for an emergency dentist in Columbus?
Calling Express Dentist on 1-844-593-0591 has numerous advantages when you require immediate dental care. We are a toll-free 24/7 hotline and here are some of the benefits of utilizing our hotline:
Same-Day Appointments
Express Dentist has partnered with a network of dental professionals who offer same-day appointments. This can be a crucial service when you have an urgent dental issue that requires prompt attention. Rather than waiting for days or even weeks for an available appointment at your regular dental clinic, calling Express Dentist ensure that you can get immediate assistance from an emergency dentist in Columbus.
Weekend and After-Hour Appointments
Dental emergencies can happen at any time, including weekends and after regular office hours. By calling the 24/7 Express Dentist hotline on 1-844-593-0591, you gain access to a network of dentists who offer weekend and after-hour appointments. This ensures that you can receive the necessary treatment without delay, even if work or other commitments do not allow you to go to the dentist during regular business hours.
Helpful Operators
The Express Dentist helpline is staffed by knowledgeable and helpful operators who are trained to assist you in finding the right emergency dentist in Columbus. They can provide guidance, answer all your questions, and offer recommendations based on your specific dental needs. The expertise of Express Dentist operators ensures that you receive appropriate assistance in a timely manner.
Wide Network of Experienced Dental Professionals
Our toll-free hotline gives you access to a vast network of experienced dental professionals specializing in emergency dental care. Our partner providers are well-equipped to handle all kinds of dental emergencies, such as severe toothaches, broken teeth, knocked-out teeth, oral infections, and more. Access to our diverse network ensures that you will be matched with a skilled emergency dentist in Columbus who can address your specific dental issue.
Multiple Payment Options
At Express Dentist, we understand that people have different financial situations and payment preferences. Whether you prefer to pay in cash, use a credit card, or utilize your private PPO insurance, we can assist you in finding an emergency dentist in Columbus who accepts your preferred payment method. This flexibility allows you to receive immediate dental care without worrying about the finances.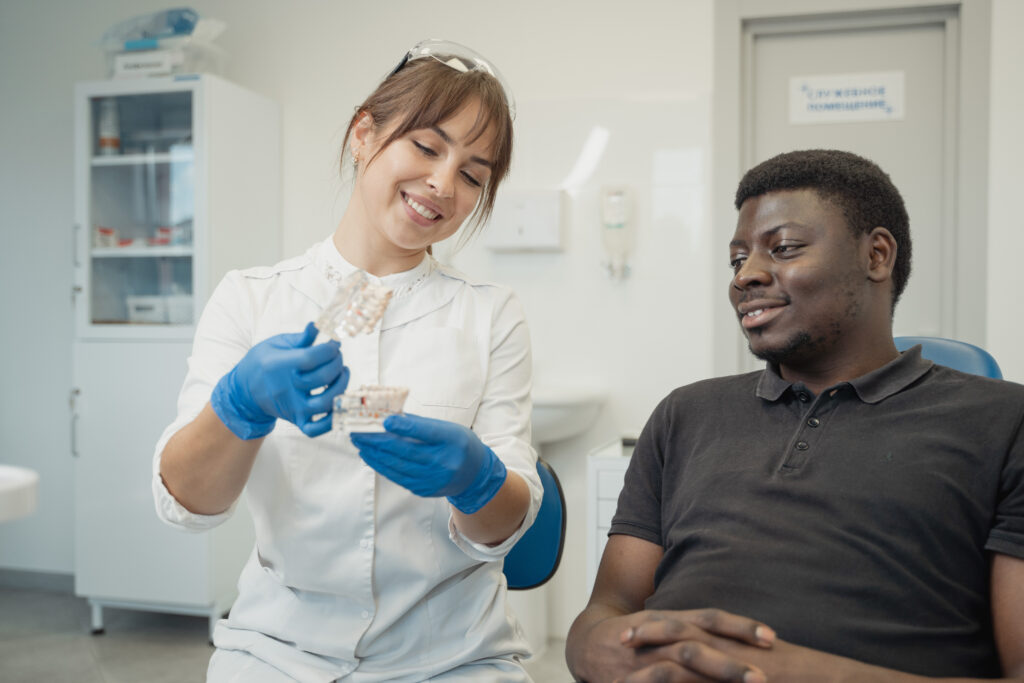 How to manage dental pain at home before seeing a dentist?
If you're experiencing dental pain and discomfort and cannot get in to see your regular dentist, call Express Dentist on 1-844-593-0591 and we will connect you to an emergency dentist in Columbus who can provide appropriate treatment. Call us for urgent dental clinics near German Village, Short North, Upper Arlington, Clintonville, Dublin, and other neighborhoods. We can connect you with family dental clinics as well as specialists such periodontists, sedation dentists, pediatric dentists, and dentists who specialize in caring for children with ADHD or autism.
In the meantime, there are several steps you can take to manage your symptoms at home.
Rinse with warm saltwater
Mix half a teaspoon of salt in 8 ounces of warm water and gently swish it around your mouth. This can help reduce inflammation, alleviate pain, and cleanse the affected area.
Take over-the-counter pain relievers
Nonsteroidal anti-inflammatory drugs (NSAIDs) such as naproxen or ibuprofen can temporarily relieve dental pain. Follow the instructions on the packaging and consult a pharmacist or healthcare professional if you have any questions or concerns.
Apply a cold compress
Placing a cold pack or ice wrapped in a cloth on the affected area can help reduce swelling and numb the pain. Apply it in short intervals of about 15 minutes at a time.
Use clove oil
Soak a cotton ball in clove oil and gently apply it to the affected area. Clove oil has natural numbing properties and can provide temporary relief from dental pain. However, be mindful that clove oil can damage the delicate tissues of the gums and tooth root. Also, it should not be used in children and infants. 1
Avoid triggering foods and drinks
Stay away from very hot or cold foods and beverages as well as those that are excessively sweet or acidic as they can worsen sensitivity and discomfort.
Maintain good oral hygiene
Continue to brush and floss your teeth gently, being careful around the affected area. Proper oral hygiene helps prevent further complications and promotes healing.
Avoid putting pressure on the affected tooth
If possible, try to chew on the opposite side of your mouth to avoid putting excessive pressure on the painful tooth. Remember, these measures are temporary solutions to manage dental pain until you can see a dentist. It is crucial to schedule an appointment as soon as possible to diagnose and treat the underlying cause of your symptoms. Dental professionals are best equipped to provide appropriate and long-lasting solutions for your dental concerns.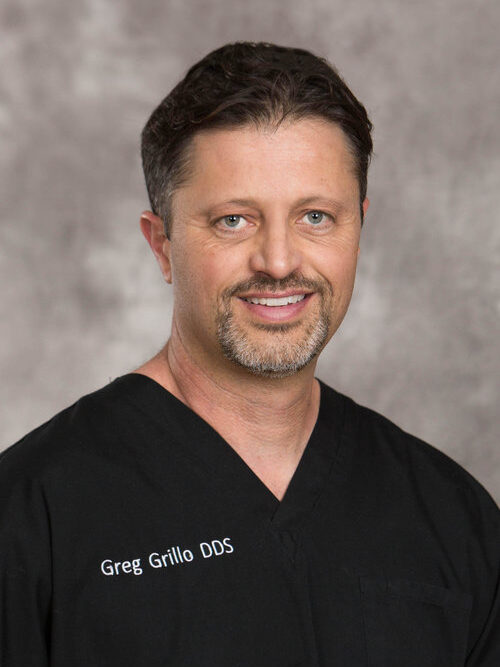 Dr. Greg Grillo DDS studied at the University of Washington where he received a bachelors degree with Honors and later attended dental school on the same campus. Following school Dr. Greg served in the United States Navy as a dental officer. During this time he received advanced training in specialty areas of dentistry while also treating families of members of the military.
As well as sharing valuable information on dentistry and oral health, Dr. Greg remains a practicing dentist to this day. He works with families in the Okanogan Valley where he lives with his wife and three children.
Colgate. Can I use clove oil for dental pain? Available online. Accessed on May 17, 2023.