Dental Bright
5711 Hillcroft St a2, Houston, TX 77036, United States
+1 713-783-6060
Mon 10 AM – 6 PM
Tues 9 AM – 3 PM
Wed 10 AM – 6 PM
Thurs Closed
Fri 10 AM – 6 PM
Sat 9 AM – 3 PM
Sun Closed
Emergency Dentist in Houston
2400 Mid Ln, Suite 350a, Houston, TX 77027, United States
+1 346-248-2704
Mon 8 AM – 5 PM
Tues 8 AM – 5 PM
Wed 8 AM – 5 PM
Thurs 8 AM – 5 PM
Fri 8 AM – 5 PM
Sat 8 AM – 2 PM
Sun Closed
Emergency Dental Care USA
13247 East Fwy, Houston, TX 77015, United States
+1 832-900-9009
Mon 7 AM – 7 PM
Tues 7 AM – 7 PM
Wed 7 AM – 7 PM
Thurs 7 AM – 7 PM
Fri 7 AM – 7 PM
Sat 7 AM – 7 PM
Sun 7 AM – 7 PM
When a dental emergency strikes, it's vital that you get prompt and professional help. An easy way to do this is by calling the Express Dentist referral hotline on 1-844-593-0591. We are a 24×7 toll-free hotline manned by a team of knowledgeable and friendly operators. Express Dentist has partnered with leading dental professionals in River Oaks, The Heights, West University Place, Bellaire, Montrose and other areas in the city. In most cases, we can get you instant access to an emergency dentist in Houston.
Why call Express Dentist for an emergency dentist in Houston?
First and foremost, calling Express Dentist is incredibly easy and convenient. Rather than searching for a dentist on your own or waiting for an appointment with your regular dentist, our hotline can quickly connect you with an available dental professional in your area. This can save you time and energy, as well as ensure that you receive the care you need as soon as possible.
Another advantage of using Express Dentist is the ability to access a wider range of dental services. We have partnered with an extensive network of dental providers. As a result, you can be referred to a specialist who can provide the specific care you need, whether it's orthodontics, oral surgery, or periodontics.
In addition to these benefits, calling Express Dentist can also help you navigate the often-confusing world of dental insurance. Our operators are familiar with a range of insurance plans and can help you determine which providers are in-network as well as provide cost estimates for different treatments.
Finally, Express Dentist offers peace of mind if you are anxious about dental care. By providing a trusted source of information and referrals, our hotline can help alleviate your fears and uncertainties, making it easier for you to take care of your oral health.
Call Express Dentist on 1-844-593-0591 today and see for yourself how easy it is to find an emergency dentist in Houston.
What are some common dental emergencies?
Dental emergencies can be extremely painful, scary, and overwhelming. You require immediate attention from an emergency dentist in Houston if you're experiencing a dental emergency, but you may feel too overwhelmed to find one. Here are three common dental emergencies, how you might feel, and what to do if they occur.
Toothache
A toothache is a common dental emergency that can occur for various reasons, such as tooth decay, gum disease, or a dental abscess. Toothaches can range from mild discomfort to severe pain that can make it difficult to eat or sleep. If you are experiencing a toothache, you may feel a sharp or dull pain in the affected tooth and the surrounding area. The pain may be accompanied by swelling or sensitivity to hot or cold foods or drinks.
If you have a toothache, rinse your mouth with warm salt water. Use dental floss to gently remove any food particles that could be potentially causing the pain. Over-the-counter pain relievers can also help manage the discomfort until you can see a dentist. Remember, you should see a dentist as soon as possible to find out the cause of your toothache and receive appropriate treatment.
Chipped or broken tooth
This can occur due to trauma, such as a fall or a sports injury, or from biting down on something hard. You may feel a sharp pain in the affected tooth or surrounding area. The tooth may appear jagged or have a visible crack or chip. 1
If you chip or break a tooth, you should swish some warm water in your mouth and then apply a cold compress to the affected area to control swelling. In case the tooth is bleeding, you can apply pressure with a clean, damp cloth. Call Express Dentist on 1-844-593-0591 and make an appointment to see an emergency dentist in Houston as soon as possible. This will not only provide relief from symptoms but also prevent further damage. Your dentist will discuss the best course of treatment, which may include bonding, a crown, or extraction.
Lost or knocked-out tooth
A lost or knocked-out tooth can be a traumatic experience. It requires urgent attention from an emergency dentist in Houston. This type of emergency can occur due to a sports injury, accident, or biting down on something hard. You may feel a lot of pain or discomfort in the affected area. The tooth itself may be missing or appear displaced.
If you lose a tooth, you should try to locate it. Gently rinse it with water, being careful not to touch the roots. If possible, try to reposition the tooth in its socket and bite down gently to keep it in place. In case this is not possible, keep the tooth moist by placing it in a small amount of milk or saliva until you can see a dentist.
In any dental emergency, it's important to see an emergency dentist in Houston as soon as possible. Call Express Dentist on 1-844-593-0591 so that you can receive the appropriate treatment and avoid further complications.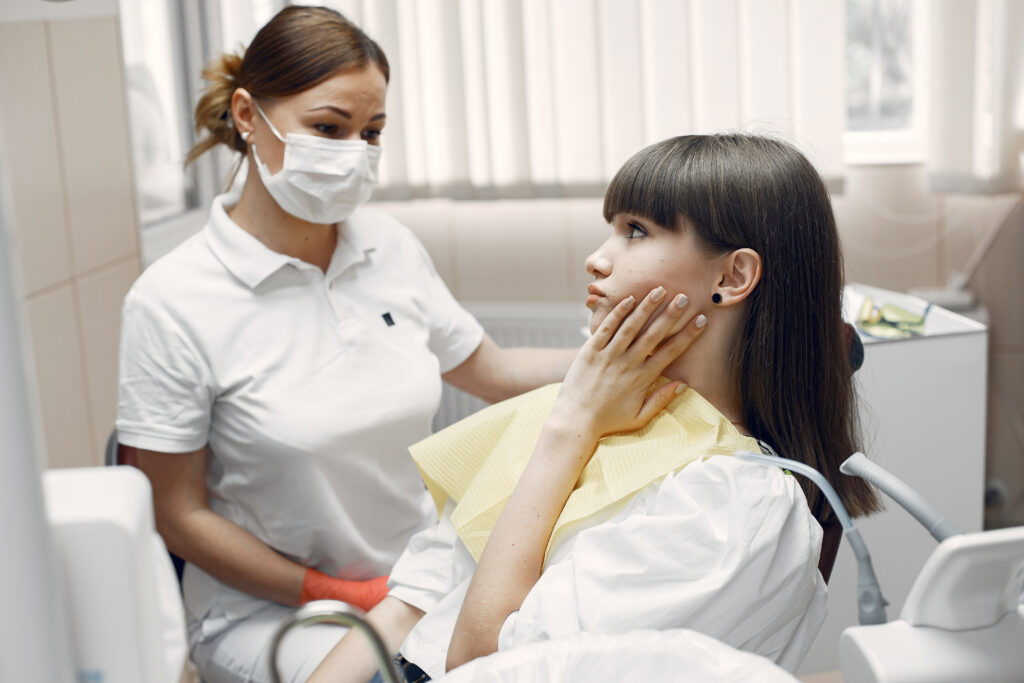 How to pay an emergency dentist in Houston?
Urgent unexpected dental treatment can be costly, and not everyone has dental insurance to cover the expense. Here are a few different ways to pay for dental treatment, both with and without insurance.
Dental insurance
Dental insurance can help cover the costs of unexpected dental treatment. Coverage for dental emergencies will depend on your individual plan. Most dental insurance plans cover routine exams, cleanings, and fillings, but many also cover emergency procedures such as extractions, root canals, and crowns. It's important to review your policy details and understand any deductibles, co-pays, or annual maximums to determine how much of the cost will be covered and how much you'll pay out-of-pocket.
Payment plans
Many dental offices offer payment plans to help patients pay for unexpected dental treatment. These plans often require a down payment and allow patients to make monthly payments to pay off the balance over a period of time. Payment plans can help make the cost of treatment more manageable and may offer lower interest rates than credit cards.
Health savings account (HSA) or flexible spending account (FSA)
An HSA or FSA is a tax-advantaged savings account that can be used to pay for medical and dental expenses. These accounts are usually offered through an employer and allow employees to contribute pre-tax dollars to pay for eligible expenses, including dental treatment. Review the account details and understand any restrictions or deadlines before using the funds to avoid penalties.
Credit cards
Using a credit card to pay for urgent dental care can be a quick and easy option, but don't forget to consider the interest rates and potential fees associated with the card. Some credit cards offer promotional financing options, such as zero percent interest for a limited time, which can help make the cost of dental treatment more affordable.
Discount dental plans
A discount dental plan is a membership program that offers reduced fees for dental procedures, including emergency treatments. These plans usually require an annual fee and offer discounts of up to 50 percent off the regular cost of treatment. While not insurance, discount plans can help make dental care more affordable for those without insurance. If you are worried about not being able to afford care from an emergency dentist in Houston, give us a call on 1-844-593-0591. At Express Dentist, it is our mission to help everyone gain access to affordable dental care in their community.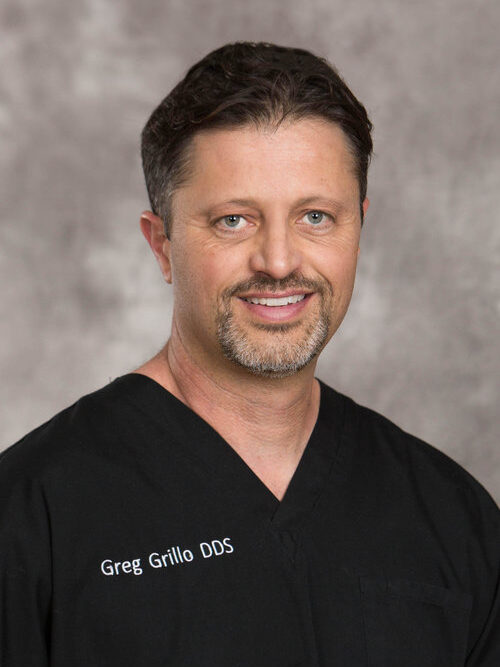 Dr. Greg Grillo DDS studied at the University of Washington where he received a bachelors degree with Honors and later attended dental school on the same campus. Following school Dr. Greg served in the United States Navy as a dental officer. During this time he received advanced training in specialty areas of dentistry while also treating families of members of the military.
As well as sharing valuable information on dentistry and oral health, Dr. Greg remains a practicing dentist to this day. He works with families in the Okanogan Valley where he lives with his wife and three children.
Crest. Chipped or Cracked Tooth Causes and Repair. Available online. Accessed on May 5, 2023.