North Florida Dentistry
1584 Kingsley Ave A, Orange Park, FL 32073, United States
+1 904-830-5413
Mon 8 AM – 4 PM
Tues 8 AM – 4 PM
Wed 8 AM – 4 PM
Thurs 8 AM – 4 PM
Fri Closed
Sat Closed
Sun Closed
Wimauma Dental Care
4921 State Road 674, Wimauma, FL 33598, United States
+1 813-547-5085
Mon 9 AM – 6 PM
Tues 8 AM – 6 PM
Wed 9 AM – 6 PM
Thurs 8 AM – 5 PM
Fri 8 AM – 5 PM
Sat Closed
Sun Closed
Bliss Dental Miami
8501 SW 124th Ave, Ste 104, Kendall, FL 33183, United States
+1 305-274-0920
Mon 9 AM – 5 PM
Tues 9 AM – 7 PM
Wed 9 AM – 5 PM
Thurs 8 AM – 5 PM
Fri 9 AM – 5 PM
Sat 9 AM – 3 PM (first Saturday of the month)
Sun Closed
John E. Russo, D.M.D.
430 N Mills Ave, Suite #3, Orlando, FL 32803, United States
+1 407-849-3089
Mon 7:30 AM – 4 PM
Tues 7:30 AM – 4 PM
Wed 7:30 AM – 4 PM
Thurs 7:30 AM – 4 PM
Fri 7:30 AM – 3 PM (select Fridays)
Sat Closed
Sun Closed
Carrollwood Smiles
3401 W Fletcher Ave A, Tampa, FL 33618, United States
+1 813-269-4000
Mon 8 AM – 4 PM
Tues 8 AM – 4 PM
Wed 8 AM – 4 PM
Thurs 8 AM – 4 PM
Fri 8 AM – 4 PM
Sat Closed
Sun Closed
Emergency dentists in Florida can provide urgent care for all types of dental emergencies. Florida emergency dental clinics offer convenient appointment hours, accept most dental insurance plans, and offer flexible payment plans to make emergency dental care affordable for those without insurance. Express Dentist is committed to getting you the dental care you need without delay. You can call the toll-free hotline at 1-844-593-0591 at any time (including after hours and weekends) to find top-rated emergency dental care providers in Florida.
What are some dental emergencies that need immediate treatment?
The teeth and mouth can be affected by many different problems. Some of these problems do not require immediate care. Treatment can wait until you can get an appointment with your regular dentist. For example, if you are due for a professional teeth cleaning, it is an optional treatment that can be done according to your convenience and availability of appointments.
But some conditions need to be treated without delay. Indeed, some dental emergencies can be life-threatening if you do not get immediate professional dental attention. Dental emergencies can include:
Dental trauma: Injuries to the mouth or face can lead to chipped or broken teeth or completely knocked-out teeth. Dental trauma should be evaluated by an emergency dentist to ensure there are no problems that require immediate care.
Uncontrolled dental bleeding: Bleeding that does not stop within a few minutes is potentially life-threatening and requires emergency medical care.
Deep caries: These are cavities that extend deep inside the pulp of the tooth and involve the tooth root. They require immediate attention because they can cause severe pain. Also, there is a risk of the infection spreading to other parts of the body.
Swelling: Severe swelling in the mouth, throat, or face can make it difficult to breathe. If the swelling is due to a non-dental problem, an emergency dentist in Florida can refer you to the appropriate specialist. You should call 911 or go to the nearest emergency room if you have any trouble breathing.
Severe pain: Toothache is often the result of cavities. Dental pain can also occur due to a faulty restoration with devices like dentures that do not fit properly. Tooth pain needs to be evaluated quickly. If a tooth were to come loose, for instance, it could lead to choking, putting a person's life in danger.
Protruding wires: In orthodontic patients (people with braces), protruding wires can potentially injure the gums or cheeks. They should be adjusted on an emergent basis. The same is true of adjustments in other dental appliances that can harm other structures in the mouth.
Replacement of temporary fillings: Sometimes, dentists put in temporary fillings, for example, in an abscessed tooth. This is done as a stop gap measure while you wait for some remaining work to be done and the final permanent filling to be inserted. If the temporary filling gets washed out, it needs to be replaced by an emergency dentist immediately because the dental tissues are exposed with the filling gone.
What should I do if I have a toothache after hours?
A toothache can be debilitating. Dental pain can be severe enough to keep you awake at night. If you are having constant, severe pain, it could indicate a dental infection. The infection won't go away on its own without treatment. If it is after hours, you should see an emergency dentist to get immediate pain relief and treat the underlying cause of your tooth pain.
It is worth noting that home treatments and natural remedies for toothache can help to relieve pain. These may include using an ice pack or taking an over-the-counter pain pill. However, these treatments will not address the underlying cause of your toothache.
A dental professional will evaluate you and identify what is causing your toothache. If it is due to tooth decay, they will fill the cavity or perform a root canal procedure (clean the tooth root and replace the infected tissue with sealing material). In some cases, it may be necessary to remove the tooth. An emergency dentist can also prescribe antibiotics and prescription pain pills.
If you want to quickly find an emergency dentist in Florida, call the toll-free Express Hotline on 1-844-593-0591. Lines are open 24/7 and friendly operators are available to help you get same-day dental appointments. You are assured of getting high quality dental care in Florida from accredited practitioners at affordable prices.
We have a presence in states from New York to Washington. We have emergency dentists in cities such as Raleigh, Tuscon and Atlanta.
What should I do if my tooth got knocked out?
Having a tooth knocked out of your mouth can be a frightening experience. This is a dental emergency, one that more than 5 million people experience every year. Proper emergency dental care from an after-hours dentist in Florida can save your tooth, provided you act fast. An emergency dentist can replant your tooth if you can get to their clinic within 30 minutes.
The Express Dentist hotline at 1-844-593-0591 is open 24/7 and can help you find an emergency dental office in Florida when every minute counts.
Until you get to the dentist's office, you should locate the tooth and handle it carefully. Hold the tooth by the crown (the white, chewing part) and not the root. If the tooth is dirty, rinse it with clean water. Do not use any soap, do not scrub it, and do not wrap it in paper or tissue. Try to put the knocked-out permanent tooth back in its place in your mouth and hold it down with gentle pressure by biting down (don't do this for milk teeth in children). If it is not possible to replace the tooth in the mouth, keep it moist in some milk (don't use water) or by using a tooth preservation kit. 1
A Florida emergency dentist has the highest chances of saving your tooth if you bring it in to the dental clinic within 30 minutes. However, it is sometimes possible to save a tooth that has been outside the mouth for 60 minutes or more.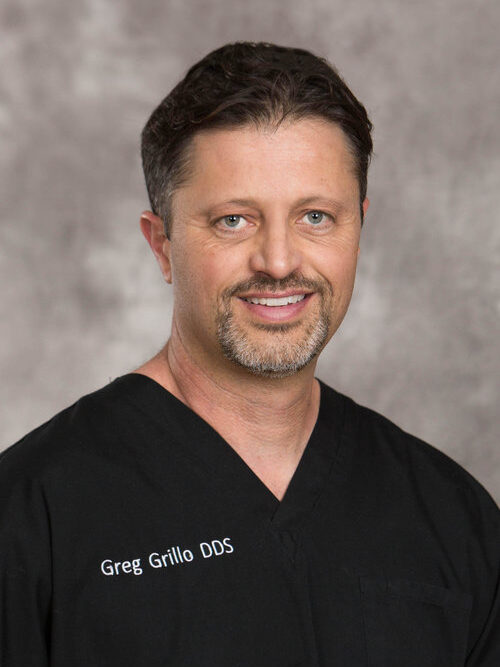 Dr. Greg Grillo DDS studied at the University of Washington where he received a bachelors degree with Honors and later attended dental school on the same campus. Following school Dr. Greg served in the United States Navy as a dental officer. During this time he received advanced training in specialty areas of dentistry while also treating families of members of the military.
As well as sharing valuable information on dentistry and oral health, Dr. Greg remains a practicing dentist to this day. He works with families in the Okanogan Valley where he lives with his wife and three children.
American Association of Endodontists.

Knocked Out Teeth

. Available online. Accessed on November 1, 2021.