Albuquerque Modern Dentists
6810 Menaul Blvd NE Ste B, Albuquerque, NM 87110, United States
+1 505-872-1100
Mon 8:00 AM – 5:30 PM
Tues 7:00 AM – 4:00 PM
Wed 8:30 AM – 5:30 PM
Thurs 7:00 AM – 4:00 PM
Fri 8:00 AM – 4:00 PM
Academy Dental Care
6425 Holly Ave NE, Albuquerque, NM 87113
+1 505 828-2020
Mon 7:30am – 5:00pm
Tue 7:30am – 5:00pm
Wed 7:00am – 5:00pm
Thu 7:00am – 5:00pm
Fri 8:00am – 1:00pm
New Mexico Smile Center
10151 Montgomery NE Bldg 3, Ste A, Albuquerque, NM 87111
+1 505 5963-380
Mon 8 am-5 pm
Tue 7:30 am–3:30 pm
Wed 8 am–12 pm, 1–5 pm
Thu 7:30 am–3:30 pm
Fri 8 am–12 pm
TruCare Dental
4824 McMahon Blvd NW, #119, Albuquerque, NM 87114, United States
+1 505-369-0074
Mon 8 AM – 6 PM
Tues 8 AM – 6 PM
Wed 8 AM – 6 PM
Thurs 8 AM – 6 PM
Fri 8 AM – 6 PM
Sat Closed
Sun Closed
Legacy Dental
5343 Wyoming Blvd NE, Suite A, Albuquerque, NM 87109, United States
+1 505-257-0354
Mon 8 AM – 2 PM
Tues 7 AM – 7 PM
Wed 7 AM – 5 PM
Thurs 7 AM – 7 PM
Fri 8 AM – 2 PM
Sat Closed
Sun Closed
Need a dentist who can accommodate last-minute appointments? Want a weekend dental clinic to fit around your busy schedule? Looking for same-day dental care in Albuquerque, New Mexico? Call the Express Dentist hotline at 1-844-593-0591 for:
Late-hours and after-hours emergency dental care
Weekend dental appointments
Top-rated Albuquerque dentists
Express Dentist is a 24/7 toll-free hotline 1-844-593-0591 that connects you to emergency dentists in Albuquerque. We have partnered with leading dentists in the area to bring you high-quality dental care no matter the time of day or day of the week. Our exhaustive directory of emergency dental care providers in Albuquerque means you can get evaluated and treated for dental emergencies, including same-day dental surgery, without delay.
Each of the Express Dentist partners is vetted to ensure you receive the highest quality of emergency dental care. When you choose an Express Dentist partner, you can be sure of receiving:
Quality dental care from accredited practitioners
Same-day or next-day dental appointments in Albuquerque
Reasonably priced emergency dental treatment
Calls to the Express Dentist hotline 1-844-593-0591 are completely free of cost. The helpline operates 24 hours a day, including weekends and holidays. We are your trusted source for dental referrals, giving you instant access to emergency dental care in Albuquerque.
What's considered a dental emergency?
Most dental problems are not emergencies. Common complaints such as toothache, lost filling, lost crown, chipped tooth, and broken braces can usually wait to be evaluated and treated during regular clinic hours. However, some things like dental trauma and a knocked-out tooth are dental emergencies. If you have a knocked-out tooth, for example, you should ideally see a dentist within 30-60 minutes to save the tooth. 1Similarly, if you have suffered an injury or accident resulting in dental or oral trauma, it is important to be evaluated as soon as possible to rule out uncontrolled bleeding, soft tissue infection, trauma to the facial bones, and other complications that require immediate treatment. Some dental conditions such as severe pain and inflammation, severe caries, tooth fracture, tooth abscess, denture readjustments, replacement of temporary fillings, and braces causing pain require urgent dental care. 2
It is worth noting that waiting several days or weeks to see a dentist for non-emergency dental problems can lead to a worsening of symptoms and serious complications, costing hundreds of dollars in dental treatments in the future. It is always a better idea to have your dental complaints evaluated and treated ASAP. Many emergency dentists in Albuquerque offer same-day appointments, late hours appointments, and weekend appointments to work around your schedule. You can call the Express Dentist hotline at 1-844-593-0591 to connect with a 24-hour dentist in Albuquerque and get the care you need without delay.
Can you go to the ER for a dental emergency?
If you have suffered an accident or injury with dental trauma, you should proceed to the nearest emergency room for a thorough evaluation. However, if your problem is limited to a dental one, you are better off seeing an emergency dentist in Albuquerque. This is because most emergency rooms do not have a dentist on-call 24/7, so if it is after hours, it is unlikely you will be seen by a dental professional in the ER.
As a result, you may not receive definitive treatment for your problem. For example, if you have a toothache, an ER doctor may prescribe pain pills to relieve your symptoms. A 24-hour dentist, on the other hand, will determine the underlying cause of your toothache and treat it appropriately. If your toothache is caused by dental caries, for instance, a dentist will give you antibiotics and pain medication as well as offer more definitive treatments such as a root canal to treat the cause of your toothache symptom.
Can doctors in the ER pull a tooth?
As noted, most ERs are not staffed by a dentist 24/7. ER doctors cannot pull teeth or perform emergency tooth extractions or emergency root canals or any other specific dental treatment. Walk-in patients to the ER with dental complaints are usually given antibiotics and pain pills and told to contact their dentist. Some urgent care centers offer basic dental treatment in an emergency. However, they are not usually equipped to take care of complex dental problems. You are better off going to an emergency dental clinic in Albuquerque where trained staff have access to all the necessary equipment for dental repairs.
How much does emergency dental care in Albuquerque cost?
Emergency dental treatment in Albuquerque does not usually cost much more than regular dental care. Some dental clinics, however, do charge an additional fee for late-hours or weekend appointments. You can make emergency dental care more affordable by signing up for a dental discount plan for savings up to 40% and 24/7 access to Albuquerque dentists.
How do I pay a 24-hour dentist in Albuquerque?
Unless you have dental insurance that covers emergency dental care, you will need to pay for emergency dental treatment out-of-pocket. Emergency dentists in Albuquerque accept various payment methods, including credit and debit cards, cash, and personal checks. Some providers offer deferred payment plans or low-interest payment plans to make emergency dental care more affordable for everyone. Many after-hour dentists in Albuquerque accept dental discount plans and dental health saving plans as well.
Finding High-Quality 24/7 Dental Care in Albuquerque Made Easy
The Express Dentist hotline 1-844-593-0591 makes finding an emergency dentist in Albuquerque as easy as a quick phone call. We operate 24/7 including nights, after hours, and weekends, so 24/7 dental services are within easy reach. Whether you have a throbbing toothache that needs treatment with medications or you require same-day dental surgery, we make it easy for you to connect with accredited dentists in Albuquerque. Call the Express Dentist hotline at 1-844-593-0591 today for high-quality care from Albuquerque dentists at affordable prices.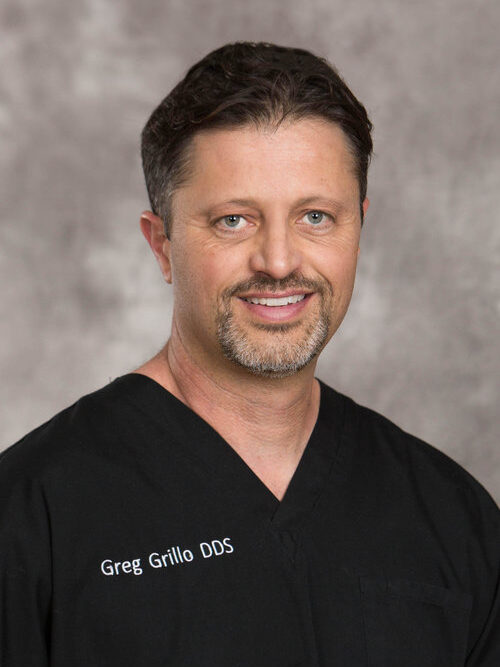 Dr. Greg Grillo DDS studied at the University of Washington where he received a bachelors degree with Honors and later attended dental school on the same campus. Following school Dr. Greg served in the United States Navy as a dental officer. During this time he received advanced training in specialty areas of dentistry while also treating families of members of the military.
As well as sharing valuable information on dentistry and oral health, Dr. Greg remains a practicing dentist to this day. He works with families in the Okanogan Valley where he lives with his wife and three children.
NHS Inform. Broken or knocked-out tooth. Available online. Accessed on April 11, 2021.
American Dental Association. What Constitutes a Dental Emergency? Available online. Accessed on April 11, 2021.