The Dentist
3060 Joe Battle Blvd, El Paso, TX 79938, United States
+1 915-263-8333
Mon 9 AM – 5 PM
Tues 9 AM – 5 PM
Wed 9 AM – 5 PM
Thurs 9 AM – 5 PM
Fri 9 AM – 5 PM
Sat 9 AM – 2 PM
Sun Closed
East El Paso Dentist
14240 Edgemere Blvd, Suite 105, El Paso, TX 79938, United States
+1 915-621-2880
Mon 8 AM – 5 PM
Tues 8 AM – 5 PM
Wed 8 AM – 5 PM
Thurs 8 AM – 5 PM
Fri 8 AM – 5 PM
Sat Call to schedule
Sun Call to schedule
Smile Magic of El Paso Dyer
5325 Dyer St, El Paso, TX 79904, United States
+1 915-996-9295
Mon Closed
Tues 10 AM – 6 PM
Wed 10 AM – 6 PM
Thurs 10 AM – 6 PM
Fri 9 AM – 4 PM
Sat 9 AM – 2 PM
Sun Closed
Why call Express Dentist for an emergency dentist in El Paso?
A dental emergency can cause significant discomfort and anxiety. Two common scenarios in which you may need to see an emergency dentist in El Paso are if you have a braces wire poking or a lost filling. Fortunately, having access to a dental referral helpline such as Express Dentist can be very useful in such situations. Here's why calling Express Dentist on 1-844-593-0591 can prove advantageous if you need to find an emergency dentist in El Paso.
24/7 toll-free hotline
One of the key advantages of Express Dentist is that we are a 24/7 toll-free line. This means you have access to urgent dental care when you need it, even on weekends, holidays, and outside regular business hours. Remember, dental emergencies can occur at any time, often catching you off guard. With a round-the-clock helpline such as Express Dentist, you can quickly connect with a knowledgeable operator who can guide you through the necessary steps to address your specific dental situation.
Helpful operators
The Express Dentist hotline is staffed by helpful and knowledgeable operators who are trained to calm you and provide you with accurate information. Our operators can assess the severity of your dental emergency, offer immediate first-aid advice, and provide reassurance if you are in pain or distress. Their expertise ensures that you receive proper guidance while waiting to see an emergency dentist in El Paso.
Same-day appointments
Express Dentist aims to arrange same-day appointments for anyone with urgent dental needs. By leveraging our vast network of dental providers, we can swiftly connect you with local dentists who specialize in handling emergencies and offer urgent dental appointments on weekends and after-hours. Our efficient service minimizes wait times and ensures you get timely access to professional dental care.
Trusted dental professionals
Another significant advantage of the Express Dentist referral helpline is our extensive network of trusted dental professionals. We can help you find an emergency dentist in El Paso in or near Mission Valley, Central El Paso, East El Paso, Northeast El Paso, and West El Paso. Our network includes skilled dentists with years of experience who can handle various dental emergencies with expertise. Having access to such a broad range of dental professionals gives you the confidence that you will receive high-quality care tailored to your specific needs. Call Express Dentist today on 1-844-593-0591 and let us connect you to family dental clinics or specialists such as orthodontists, periodontists, sedation dentists, or pediatric dentists.
Multiple payment options
When it comes to payment options, Express Dentist offers considerable flexibility. We understand that dental emergencies can place a financial burden on you. Therefore, we have partnered with dental offices that offer multiple payment options, including cash and cards to accommodate different financial circumstances. Moreover, our partner providers also accept private PPO insurance plans, making it easier for you to utilize your insurance coverage and reduce out-of-pocket expenses.
Call Express Dentist on 1-844-593-0591 and gain instant access to our comprehensive network of dentists. Let us connect you to an emergency dentist in El Paso. See for yourself how easy it can be to navigate a dental emergency and receive timely care.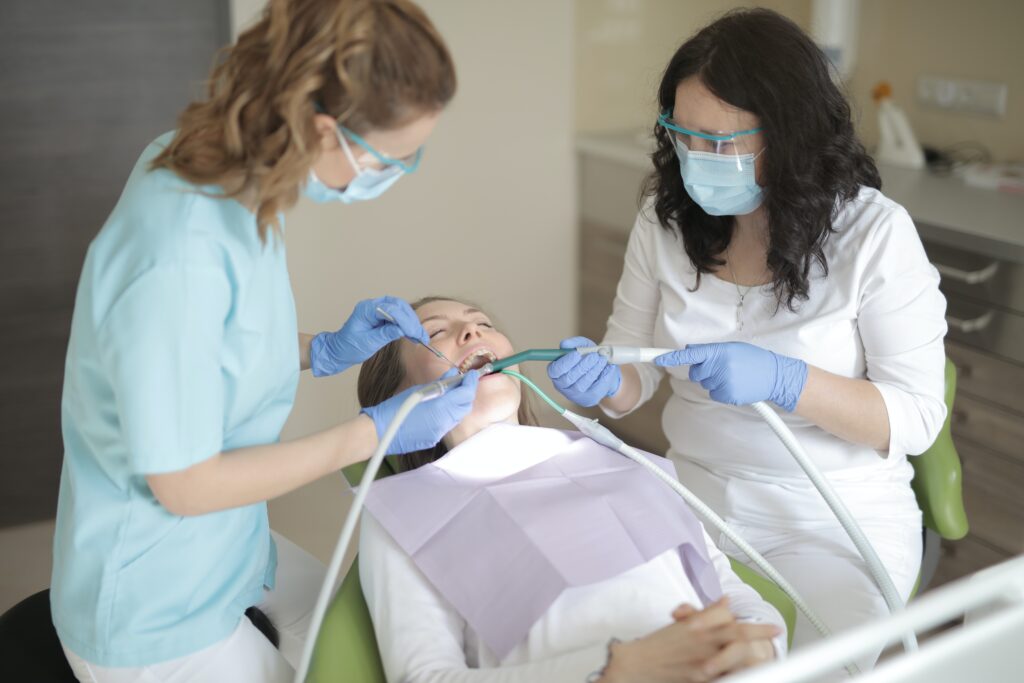 How to prevent dental emergencies?
There are some simple things you can do to prevent dental emergencies and maintain good oral health. Here are some helpful tips:
Maintain a Consistent Oral Hygiene Routine
Brush your teeth at least twice a day using a fluoride toothpaste and a soft-bristled toothbrush. Additionally, floss daily to remove plaque and food particles from between your teeth. Regular brushing and flossing can help prevent tooth decay, gum disease, and other oral health problems that can lead to dental emergencies. (Read what happens if you don't follow a good oral hygiene routine).
Schedule Regular Dental Check-ups
Regular dental check-ups are essential for preventing dental emergencies. Visit your dentist at least twice a year for routine examinations and professional cleanings. These visits allow your dentist to detect any potential issues early on and address them before they become emergencies and serious dental problems.
Wear Protective Gear during Sports
If you participate in contact sports or recreational activities, wear a mouthguard to protect your teeth from trauma. Also use other appropriate protective gear such as a helmet. Mouthguards provide a cushioning effect, reducing the risk of tooth fractures, jaw injuries, and other dental emergencies.
Avoid Using Your Teeth as Tools
Many dental emergencies occur when people use their teeth to open bottles or packages or bite down on hard objects like hairpins or pens. Avoid using your teeth as tools, as this can lead to chipped or broken teeth and even cause damage to dental restorations like fillings or crowns.
Be Mindful of Your Diet
Limit your consumption of sugary foods and drinks because they contribute to tooth decay. Also, be cautious of hard and sticky foods that can damage your teeth. Instead, opt for a balanced diet that includes plenty of nutritious foods like fresh fruits, vegetables, and dairy products to promote good oral health. 1
Avoid Harmful Habits
Avoid harmful habits such as smoking, excessive alcohol consumption, and chewing on sugary gum or hard objects. These habits can weaken your teeth, increase the risk of gum disease, and lead to dental emergencies. Read in more detail about the dangers smoking poses to oral health. Also read about the links between alcohol and poor oral health.
Teach Good Oral Health Practices to Children
Instill good oral hygiene habits in children from an early age. Teach them how to brush and floss properly and emphasize the importance of regular dental hygiene. Supervise their brushing until they are capable of doing it effectively on their own. Read some tips to encourage children to brush their teeth.
Address Dental Issues Promptly
If you experience any dental symptoms, such as toothache, sensitivity, or loose dental restorations, seek prompt dental care. Ignoring these issues can lead to severe complications and potential dental emergencies. Dental emergencies can occur despite your best efforts and care. If you or a loved one needs urgent dental care, call Express Dentist in 1-844-593-0591 for an emergency dentist in El Paso.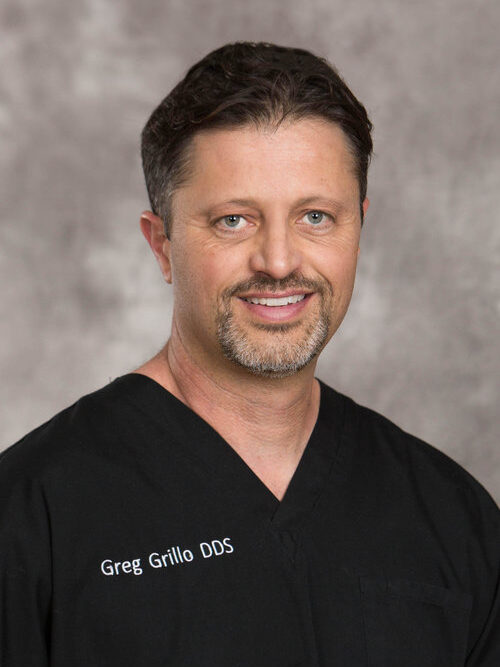 Dr. Greg Grillo DDS studied at the University of Washington where he received a bachelors degree with Honors and later attended dental school on the same campus. Following school Dr. Greg served in the United States Navy as a dental officer. During this time he received advanced training in specialty areas of dentistry while also treating families of members of the military.
As well as sharing valuable information on dentistry and oral health, Dr. Greg remains a practicing dentist to this day. He works with families in the Okanogan Valley where he lives with his wife and three children.
American Dental Association. Nutrition and Oral Health. Available online. Accessed on May 24, 2023.