Comfort Dental Babcock
6565 Babcock Rd, #1, San Antonio, TX 78249, United States
+1 210-904-2888
Mon 7:30 AM – 7:30 PM
Tues 7:30 AM – 7:30 PM
Wed 7:30 AM – 7:30 PM
Thurs 7:30 AM – 7:30 PM
Fri 7:30 AM – 7:30 PM
Sat 7:30 AM – 1:30 PM
Sun Closed
Weekend Dentistry – Dental Emergency Care
238 N Loop 1604 W, Ste 201, San Antonio, TX 78232, United States
+1 210-940-1784
Mon 9 AM – 9 PM
Tues 9 AM – 9 PM
Wed 9 AM – 9 PM
Thurs 9 AM – 9 PM
Fri 9 AM – 9 PM
Sat 9 AM – 9 PM
Sun 9 AM – 9 PM
Rio Dental – Emergency Dentist in San Antonio, TX
2811 Hillcrest Dr, San Antonio, TX 78201, United States
+1 210-785-8526
Mon 7 AM – 10 PM
Tues 7 AM – 10 PM
Wed 7 AM – 10 PM
Thurs 7 AM – 10 PM
Fri 7 AM – 10 PM
Sat 7 AM – 10 PM
Sun 9 AM – 10 PM
How can Express Dentist help me find an emergency dentist in San Antonio?
Express Dentist is a toll-free 24/7 dental referral line. We provide emergency dental referrals in your area at no extra cost to you. You can find an emergency dentist in San Antonio quickly and easily by making one phone call to Express Dentist on 1-844-593-0591. Call us for urgent dental appointments in Downtown San Antonio, Stone Oak, Stone Oak Ranch, Alamo Heights, The Dominion, and other neighborhoods in the city.
Having the Express Dentist number on hand can prove to be incredibly useful in unexpected situations where you or a loved one requires urgent dental care. Remember, dealing with a dental emergency can be a highly stressful experience, particularly when it occurs outside of regular office hours or on weekends when many dental clinics are closed. In such times, having access to a dedicated hotline such as Express Dentist provides a reliable resource for obtaining immediate assistance.
The convenience of being able to connect with operators who are trained to handle dental emergencies can alleviate your anxiety and confusion in an emergency. Express Dentist representatives can quickly assess your situation and refer you to the appropriate dental professionals from within our trusted network.
Keep in mind that Express Dentist has access to information regarding dentists who offer weekend and after-hours appointments. This will ensure that your urgent dental needs are addressed as soon as possible without unnecessary delay. We can also connect you with pediatric and family dentists, oral surgeons, and orthodontists in your area if you need specialized care.
The helpfulness of the Express Dentist operators, combined with their knowledge and expertise, makes our toll-free dental referral line an invaluable tool when you need emergency dental care in San Antonio.
How to prevent dental emergencies?
Some simple precautions can help you avoid dental emergencies to a large part. These precautions are also crucial for maintaining good oral health and avoiding unexpected dental problems.
Oral hygiene
Implementing good oral hygiene habits is one of the key preventive measures you can take to avoid a dental emergency. Regular brushing twice a day, flossing daily, and rinsing with mouthwash can help remove plaque and prevent tooth decay and gum disease.
Failure to maintain proper oral hygiene can lead to dental emergencies such as toothaches, cavities, and gum infections. This can cause severe pain that requires immediate attention from an emergency dentist in San Antonio.
Protective gear
Another important precaution is to wear mouthguards, helmets, and other protective gear during sports and recreational activities. Wearing a well-fitted mouthguard provides a cushioning effect, reducing the risk of dental trauma.
On the other hand, participating in contact sports without adequate protection can result in dental injuries like chipped or knocked-out teeth, jaw fractures, or soft tissue damage. Neglecting to wear a mouthguard in contact sports may result in painful dental emergencies and the need for urgent and expensive dental treatments.
Foods and beverages
Avoiding certain foods and beverages is another essential step in preventing dental emergencies. Consuming excessive sugary foods and drinks can contribute to tooth decay and cavities. Additionally, biting on hard objects like ice and un-popped popcorn kernels or using your teeth as tools (for example, to open beer bottles) can cause dental fractures or chipped teeth. These habits can result in painful dental problems such as broken or cracked teeth that require immediate dental care.
Taking some simple precautions can significantly lower your likelihood of experiencing dental emergencies. If you do need urgent dental care, however, call Express Dentist on 1-844-593-0591. In the meantime, read some tips on how to make your teeth stronger.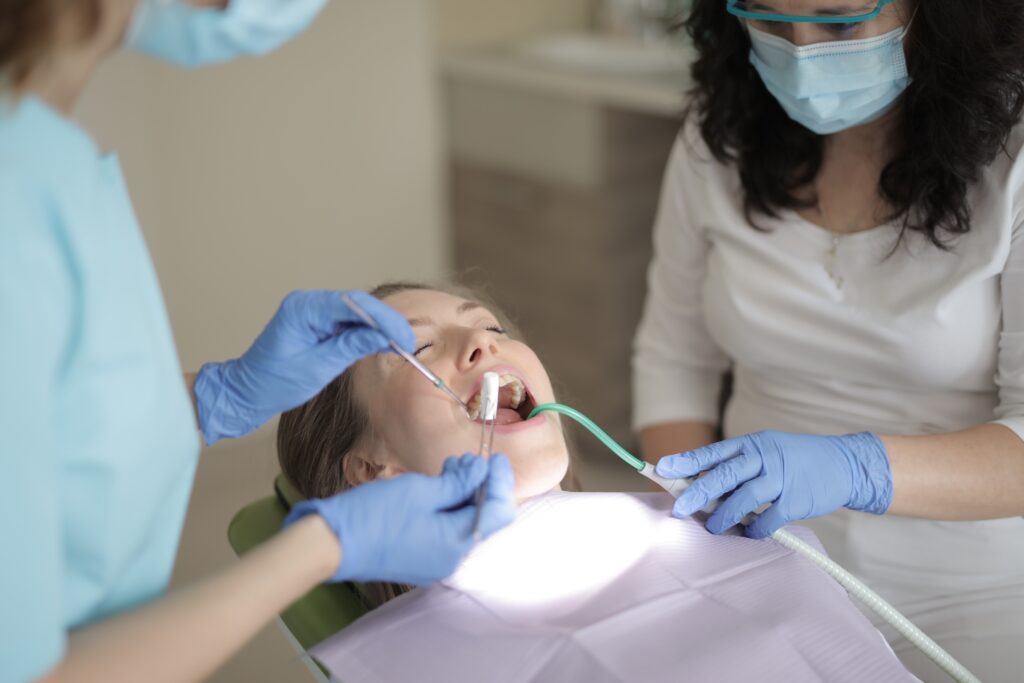 Why is it important to get prompt dental care?
Getting prompt dental care from an emergency dentist in San Antonio might seem like an inconvenient and costly endeavor. However, getting immediate attention for dental emergencies is of the utmost importance to prevent complications and ensure optimal oral health.
Delaying treatment can pose significant risks and worsen the situation, leading to more severe problems in the future that may require complicated, lengthy, and expensive dental procedures. In addition, delaying treatment for dental emergencies often leads to increased pain and discomfort, impacting your overall quality of life. Dental problems can interfere with eating, speaking, and daily activities, causing significant disruptions and discomfort.
Toothache
A toothache can indicate an underlying infection or tooth decay. If left untreated, it can spread to the surrounding tissues, potentially causing a dental abscess. Delaying treatment for an abscessed tooth can result in severe pain, swelling, and even spread of the infection to other parts of the body.
Dental injuries
A dental injury, such as a broken or knocked-out tooth, requires immediate attention. Without prompt care, the sharp edges of a broken tooth can damage the tongue, gums, or inner cheeks. If a knocked-out tooth is not re-implanted promptly, the chances of saving the tooth decrease significantly.
Gum problems
Neglecting to seek timely dental care can exacerbate gum issues. Gum infections, such as periodontal abscesses, can lead to the destruction of gum tissue, and ultimately, also the underlying jaw bone. Untreated gum disease can progress to more advanced stages, causing tooth loss and requiring more invasive and costly treatments. 1
Why see an emergency dentist in San Antonio?
If you have ongoing dental symptoms, you should make an appointment to see an emergency dentist in San Antonio. This will help prevent complications and maintain your oral health. Seeking immediate treatment from a qualified dentist at an emergency dental clinic will address your underlying issues, alleviate pain, and prevent the condition from worsening. Timely interventions can not only save your teeth but also minimize the need for more extensive and costly treatments in the future. If you need urgent dental care, same-day dental appointments, or weekend or after-hours dentist visits, call Express Dentist on 1-844-593-0591. We will be happy to connect you with trusted dental professionals in your area who can put you on the road to excellent dental health.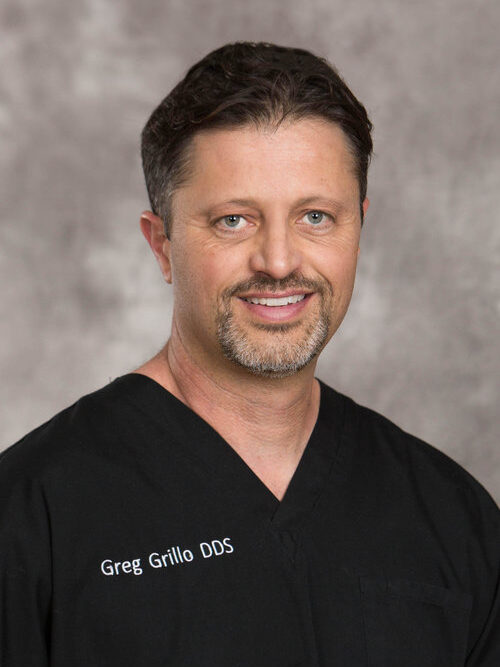 Dr. Greg Grillo DDS studied at the University of Washington where he received a bachelors degree with Honors and later attended dental school on the same campus. Following school Dr. Greg served in the United States Navy as a dental officer. During this time he received advanced training in specialty areas of dentistry while also treating families of members of the military.
As well as sharing valuable information on dentistry and oral health, Dr. Greg remains a practicing dentist to this day. He works with families in the Okanogan Valley where he lives with his wife and three children.
CDC. Periodontal Disease. Available online. Accessed on May 10, 2023.