Two perfect rows of pearly white teeth are the most important factors for a beautiful and confident smile. There are various teeth whitening products available on the market that cost around $50 on average for home kits. You can also get your teeth whitened professionally in a dental office for anywhere from $300 to $1,500. Given these costs, you may be wondering, how long does teeth whitening last? Here are the answers to this and more commonly asked questions about teeth whitening.
Is teeth whitening permanent?
No, teeth whitening is not permanent. It typically lasts for a few months to 3 years. How long teeth whitening will last depends on your eating habits and the product you use to whiten your teeth. If you smoke or drink coffee, tea, alcohol, or eat foods that can stain your teeth, your results will last for a shorter time.
How long does it take for teeth whitening to fade?
It's difficult to say how long it will take for teeth whitening to fade because there is a wide range of whitening products and treatment options. Plus, as mentioned, your eating and drinking habits can affect the longevity of the results. Generally speaking, teeth whitening results last for a year on average.
Is it worth getting teeth whitened at the dentist?
Yes, it is worth getting teeth whitened at the dentist. While the cost of professional teeth whitening might appear prohibitive when compared to home whitening kits, it's worth remembering that the results of professional whitening last longer. Also, because your dental professional will check your teeth before, during, and after treatment, your risk of side effects and gum damage is considerably lower.
Remember, some home teeth whitening kits don't contain enough whitening product for safety reasons, but as a result, they are not very effective. Also, the mouthguard in home kits may not fit properly. This can allow some of the bleaching gel to leak onto your gums, causing problems like blistering.
Whatever you choose – home kits or professional whitening – avoid getting your teeth whitened in spas and beauty salons. The whitening at these facilities is frequently performed by untrained staff, putting your oral health at risk.
What are the options for teeth whitening?
If you choose professional whitening, you will need to make 2-3 visits to the dental office. At the first visit, your dental professional will examine your mouth to make sure there are no underlying problems. They will then take an impression of your teeth to create a mouthguard. You will need to place a bleaching gel in the mouthguard and wear it for a specified amount of time, typically a few weeks. Some whitening gels can be worn for up to 8 hours at a time and this can help to shorten the treatment time.
Laser teeth whitening, also called power whitening, is a relatively newer method that can make your teeth whiter. Your dentist will apply a bleaching product on your teeth and then shine a laser on them to activate the gel. This procedure takes about an hour to perform and must be done in a dental clinic.
Can toothpaste whiten teeth?
Commercially available whitening toothpastes can whiten or brighten your teeth slightly by removing surface stains from your teeth. However, toothpaste cannot change the natural color of your teeth or remove deeper stains. Studies have shown that non-charcoal formulas are safer and more effective than charcoal toothpaste.
How often should I whiten my teeth?
You should whiten your teeth every 12-18 months if you are doing it in a dentist's office. Home kits for teeth whitening can be used every 4-6 months.
Is whitening teeth damaging?
Teeth whitening is safe and effective when used according to the manufacturer's instructions. It is not damaging as such, but it can have some side effects. While the whitening products are safe for tooth enamel, they can have a drying effect. Also, whatever treatment you use, the bleaching product can leak onto your gums and the chemicals can cause gum irritation. Teeth whitening may also lead to tooth sensitivity, depending on the products you use. Home kits are more likely to damage teeth and gums compared to professional whitening.
How can I permanently whiten my teeth?
You can permanently whiten your teeth with dental veneers. This is a great option if you don't want to use whitening strips at home or go to the dentist for whitening treatments. Porcelain veneers form a thin protective covering on the front surface of your teeth, hiding discolorations and giving you perfectly white teeth. Veneers can also fix problems like small cracks, gaps, and chips. They are popular with celebrities. So, there's a good chance if you've admired a famous person's perfect pearly whites, they might have veneers.
Can I get teeth whitening done if I wear dentures?
No, teeth whitening cannot be done if you wear dentures or have fillings, crowns, or veneers.
How to make teeth remain whiter for longer?
You can prevent staining of your teeth and make your teeth whitening results last longer by avoiding beverages like tea, coffee, and red wine as well as foods like soy sauce and berries which are known to stain teeth. In addition, using a whitening toothpaste may help. Remember, brushing your teeth twice a day and flossing daily plus using a mouthwash every day are vital to keep your mouth overall healthy.
If you want to find out more about professional teeth whitening at a dental office in your area, Express Dentist can help you find one. Give us a call and we'll be happy to put you in touch. In the meantime, read these teeth whitening myths so that you're well prepared with the correct information before your visit.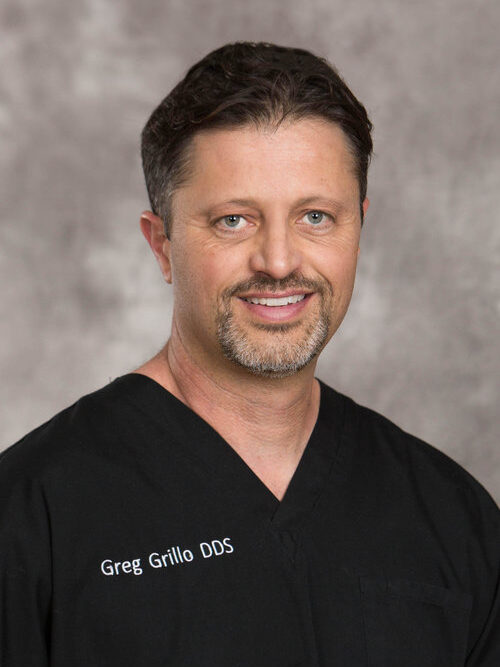 Dr. Greg Grillo DDS studied at the University of Washington where he received a bachelors degree with Honors and later attended dental school on the same campus. Following school Dr. Greg served in the United States Navy as a dental officer. During this time he received advanced training in specialty areas of dentistry while also treating families of members of the military.
As well as sharing valuable information on dentistry and oral health, Dr. Greg remains a practicing dentist to this day. He works with families in the Okanogan Valley where he lives with his wife and three children.