With the oral care industry recently reporting a 33% increase in sales, the heightened interest in dental hygiene products is a trend which shows no signs of slowing down. Considering that 32% of Brits would 'probably,' or 'definitely' consider whitening their teeth, it seems that a lot of us are aiming to achieve those pearly white smiles as exhibited by our favourite celebs.
Dental treatments, however, can be very pricey, with a full set of veneers easily racking up a bill that runs into the thousands. Procedures such as this may be a hit with the A-Listers such as Tom Cruise or Victoria Beckham, but won't be the first choice for those looking for a cheaper, less invasive alternative when it comes to oral care.
That's why the dental health experts at Express Dentist have sought to determine which UK supermarket has the highest quality and best value for money when it comes to dental care products.
The Prices of Dental Products Across Supermarkets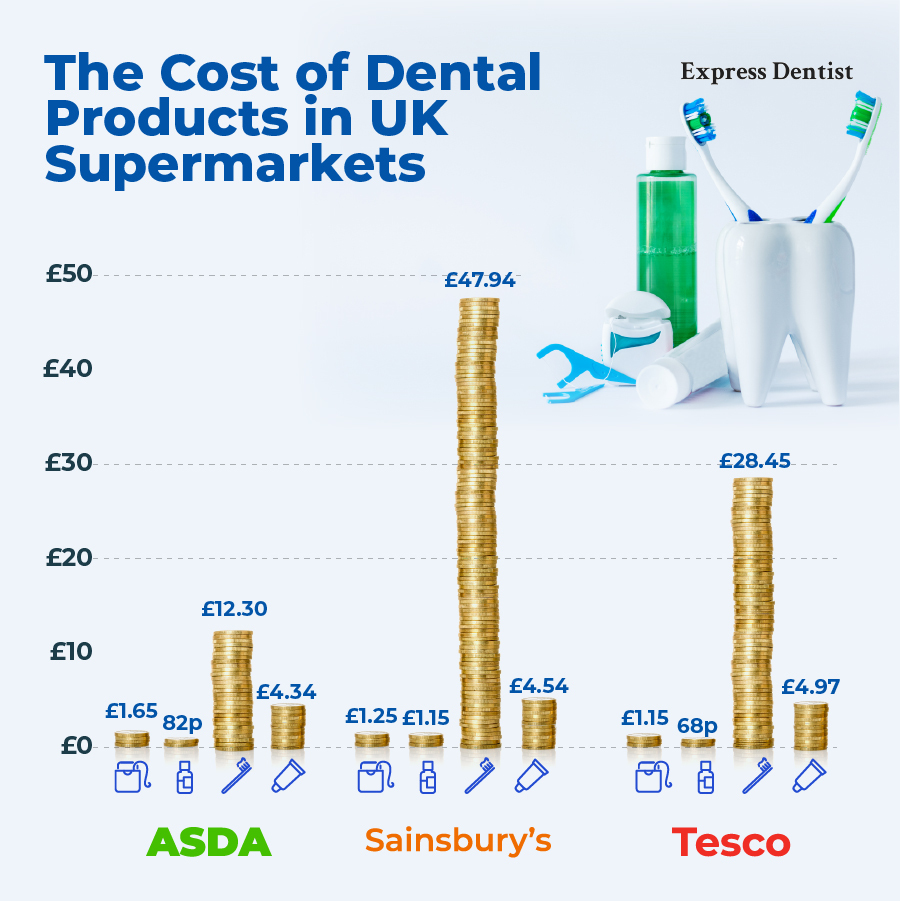 Although cosmetics is a growing sector within the dental industry, many of the most common oral issues that people are keen to counteract are problems with overall dental health. This includes concern over gum disease, bad breath and tooth decay, which can sometimes result in having to undergo tooth extraction. Prevention of these issues is generally best achieved by using an ever-reliable combination of a good toothbrush, toothpaste, mouthwash and floss.
Asda has the lowest average price for both toothbrushes and toothpaste, with a toothpaste costing £4.34 and a toothbrush costing £12.30. That's Asda price! This is substantially cheaper than both Tesco and Sainsbury's, considering that to get a new toothbrush from Tesco, you'll be forking out around £28.45. Sainsbury's average toothbrush price is even higher than this; charging four times more than Asda, a toothbrush from here comes with a hefty price tag of £49.20!
Although the average price of a toothbrush is much lower for Asda, this is due to the different product ranges available at each store. Asda's toothbrush range mainly consists of manual brushes that should be replaced every three to four months. However, Tesco and Sainsbury's offer a wide range of both manual and rechargeable electric toothbrushes.
One of the reasons people are willing to spend more on a rechargeable electric brush isn't just to get a superior clean, it's also because there's no need to buy a new toothbrush when it's time to freshen things up. Just switch your old toothbrush head for a new one, with replacement heads mostly being far cheaper than the brush itself, and often coming in multipacks.
While the price of toothbrushes at Sainsbury's and Tesco are higher than at Asda, both Sainsbury's and Tesco redeem themselves somewhat with their low prices for floss. Tesco offers floss for a fair price of £1.15. Sainsbury's is 10p more expensive at £1.25, with Asda proving to be the most expensive for floss with an average charge of £1.65.
Tesco yet again gives Asda a run for its money when it comes to mouthwash, which goes for just 68p. This is 47p cheaper than Sainsbury's, and 14p cheaper than Asda.
Reviews of Dental Products in Different Supermarkets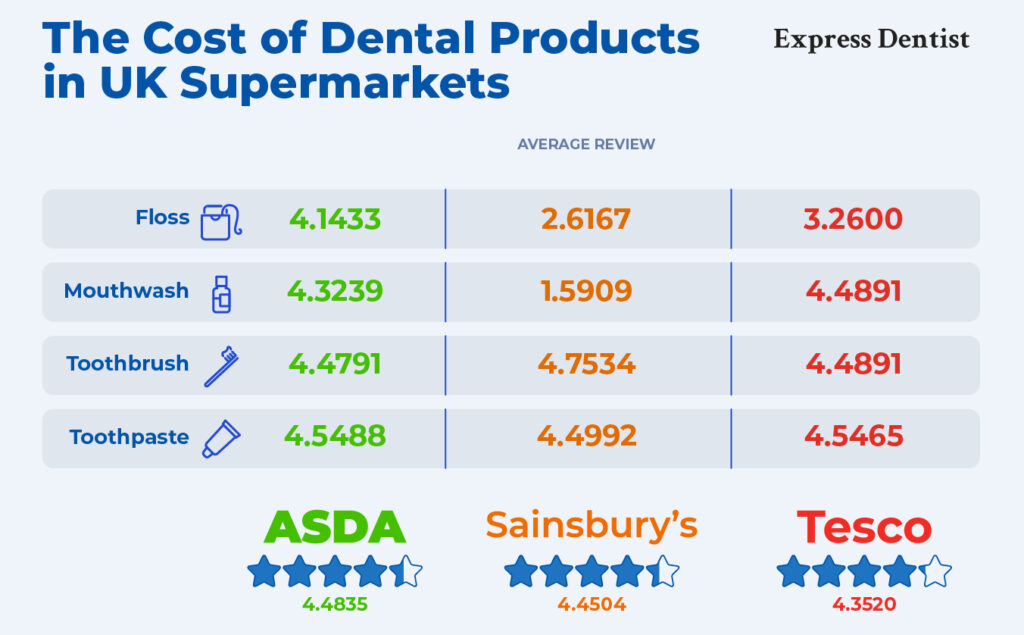 Price is not the only thing most of us will be looking for when searching for oral hygiene products. You may be surprised to learn that, as well as being the best value for money, the data reveals that Asda supermarket is also the highest rated overall for dental products.
So which UK supermarket has the best overall reviews for its dental care products? Achieving an average rating of 4.48 out of five for their dental care range, Asda comes out on top. With a score of over 4.1 for its toothbrushes, toothpaste, mouthwash and floss, Asda has consistently high reviews across the board. The highest of which is for its toothpaste, with a very good overall rating of 4.55.
Taking the second spot for highest reviews is Sainsbury's, following very closely behind Asda with a score of 4.45. Although the overall score is very respectable, with most of their toothbrushes and toothpaste being rated as over four out of five on average, their ratings for floss and mouthwash are substantially lower. The scope of the ratings for their products is vast, with floss scoring 2.61, and mouthwash receiving just 1.59.
In third place is Tesco. Although this supermarket has a very reasonable overall rating of 4.35 for its oral care range, the scores for floss and mouthwash trail behind those for toothbrushes and toothpaste, with a fairly average score of 3.26 for floss and 3.86 for mouthwash. Tesco does fare better when it comes to toothbrushes and toothpaste, however, securing an average rating of 4.49 for toothbrushes and 4.55 for its toothpaste.
Most Highly Rated Dental Products in Each Supermarket
So we've discovered that Asda tops the list for both highest rated and cheapest dental products, but what about the best individual products for each store?
With a price of £2 per bottle, which is 1.7p per tablet, Asda's Calcium & Vitamin D Bone & Teeth Health tablets, which "help maintain normal bone health", are a steal. Asda's second highest product has a rating of 2.56, but at 80p per box for a 40m roll of dental floss, the price seems fair. At a similarly good price, taking the third spot is their 40m roll of dental tape. This costs £1.20 per pack, and has a higher rating of 3.5.
Sainsbury's highest rated product is Maclean's Minty Fresh Fluoride Toothpaste, which promises to "give you confidence in your mouth every day". This has a very high rating of 4.91 and costs just £1 per tube. Coming in at number two is the Oral-B-1-2-3 Toothpaste, which is a favourite with dentists according to its slogan. This toothpaste has a rating of 4.38 and is the same price as product number one, at just £1 per tube. In fact, all three of Sainsbury's top products are toothpaste costing only £1, with third place going to OraCare+ Sensitive Toothpaste, which is rated as a four out of five.
Finally, let's take a look at Tesco's best products. Their top product, which promises to give you sparkling teeth, is the Oral-B 3D White Arctic Fresh Toothpaste. It's more expensive than the £1 toothpaste from Tesco, at £2.66, but does have a very good rating of 4.66. With the same rating of 4.66, another Oral-B product takes second place. Claiming to remove surface stains and polish teeth, Oral-B White Medium Toothbrush has a price of £1.65. With a slightly lower yet still very respectable rating of 4.5, Colgate's Total Whitening Toothpaste costs £2.50 and "will help leave your teeth shining white."
Best Products in Each Supermarket
So we've discovered that Asda tops the list for both highest rated and cheapest dental products, but what about the best individual products for each store? We've combined product prices with their reviews to give each product an overall score out of 10. Since Asda has come out on top so far, let's take a look at their most highly scoring products.
Made from recycled materials, meaning it's good for the environment as well as your teeth, is Asda's number one product; the Wisdom re:new Clean 3 pack Medium Toothbrush. This has a very high score of 9.5 and comes in a pack of three. At a cost of £1.80, these environmentally friendly toothbrushes are just 60p each.
Coming in at number two for Asda is another very highly rated product, with a score of 9.3. Their Reach Interdental Firm Toothbrush Duo Pack costs £1.50, which is 75p each. At number three we have an Oral-B product, which, according to their slogan, is a brand favoured by dentists. The Oral-B Complete 5 Way Clean Toothbrush has an overall score of 8.8, and costs £1.50 per brush.
Let's take a look at the top scoring products for Tesco. With a score of 9.1 out of ten and promising "visibly whiter teeth," Macleans Whitening Toothpaste costs 79p per tube. Jumping on the trend for using charcoal in dental products, is product number two, the Pro Formula Complete Charcoal Soft Toothbrush. This costs just £1 and has a very good score of 9.1. This is just a little higher than number three on our list for Tesco, Macleans Freshmint Toothpaste, which has a score of nine.
For Sainsbury's, we have two products tying for first place, with identical scores of 9.4. These products are also the same brand and the same price, both being OraCare+ products with a price of £1 per tube. The difference is that the Whitening Toothpaste uses "specialised cleaning ingredients to help restore the natural whiteness of your teeth," while their Extreme Freshmint Toothpaste boasts "an extreme minty flavour." With a good price and an average customer rating of five out of five, it may be worth giving both of these a try and seeing which you prefer. Next up, achieving another very high overall score of 9.3 and also priced at £1 per tube is Macleans Fresh Mint Fluoride Toothpaste.
Methodology
ExpressDentist.com sought to investigate which supermarket brand has the best price/quality for dental hygiene products.
Firstly, they created a comprehensive seed list of common dental hygiene products. These included toothpaste, toothbrushes, mouthwash, and floss.
To obtain the data, expressdentist.co.uk scraped each supermarkets 'Toothpaste, Mouthwash & Toothbrush' page in the Health & Beauty section. In-house experts also scraped floss data by using keyword search on Ahrefs.
For every product featured on the page, the product price, product unit price, and review of product was collected.
Data was collected for 3 UK based supermarkets. These included Tesco, Asda, and Sainsbury's.
Unrelated products (e.g. toothbrush holder) and products without review and unit price, were omitted from results.
The experts only kept unit prices instead of price because using unit price is more accurate to compare across supermarkets or brands and price was not available for Asda.
Finally, supermarkets were ranked from least to most expensive and best and worst, according to price and reviews respectively for each common dental product.
The data was collected on 16/11/21.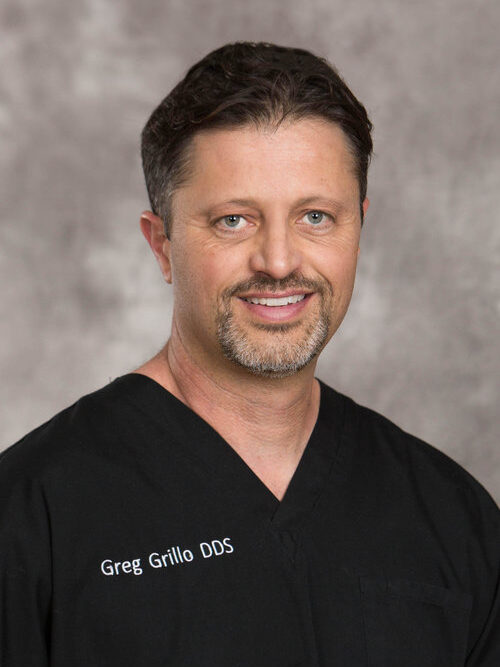 Dr. Greg Grillo DDS studied at the University of Washington where he received a bachelors degree with Honors and later attended dental school on the same campus. Following school Dr. Greg served in the United States Navy as a dental officer. During this time he received advanced training in specialty areas of dentistry while also treating families of members of the military.
As well as sharing valuable information on dentistry and oral health, Dr. Greg remains a practicing dentist to this day. He works with families in the Okanogan Valley where he lives with his wife and three children.