Are you missing all your teeth? Or dealing with loose dentures? Is it affecting your ability to go out and just enjoy a nice meal with friends? Or do you lack confidence when you smile because you're afraid your dentures are going to drop or move around? I've seen patients that are very concerned about this, and it affects the quality of their lives and their social lives. But there's a solution… all-on-4 dental implants.
All-on-4 implants for missing teeth and loose dentures
One of the things I've dealt a lot with over the years is dental implants. Now, just like there are many different types of dentures, there are many different ways to use dental implants. But if you're dealing with loose dentures especially, or you've lost all of your teeth, or a full arch of teeth on the upper or lower jaw, then there might be a solution for you known as all-on-4 dental implants. You may see this sometimes advertised or see articles about all-on-4 dental implants.
What are all-on-4 dental implants?
So, what does that mean? All-on-4 dental implants?
It's really pretty simple in concept but it's a fairly complex treatment. Fortunately, it can be delivered by dentists who are trained to do so really quite effectively, efficiently, and comfortably, which is very important.
But the idea is that all of your teeth can be supported on four, just four, implants. So, for example, if you are missing all of your lower teeth, then four dental implants are planned to be put into the lower jaw.
What happens during the all-on-4 procedure?
It usually starts with a clinical exam and a special type of 3D image known as CBCT. This 3D image allows the dentist to look at and evaluate the quality of the bone, the height of the bone, and all the different aspects. Then we decide what size implant should be placed, where they should be placed, and how deep they should be placed. Now, once that is decided, then the procedure is often a one-visit procedure.
How painful are all-on-4 dental implants?
So, you can be put to sleep or you can be awake. Everything is always numbed and is meant to be very comfortable. Most patients are really surprised to find how easy it is to get those implants, especially if they do have even some light sedation with the anesthetic.
How long is recovery after all-on-4?
Once those four implants are placed, then there's a special set of teeth that can be attached to those implants. Depending on the case, there could be a little bit of time for those implants to stabilize. A few weeks to a few months depending. But you can often still have a temporary set of teeth placed on top of those implants. Regardless, when the implants have integrated properly, the teeth are actually tightened onto those implants, so they feel secure and firm and strong.
Is all-on-4 a good idea?
Imagine being able to chew a steak, for example. That is all possible with the all-on-4 dental implants design. The teeth are made in a laboratory. They're made to look really beautiful, very natural, to give a person their confidence back as well. We're talking 24×7 they can stay there. Data shows all-on-4 dental implants can last up to 20 years or more.
Are all-on-4 dental implants removable?
The nice thing about all-on-4 dental implants is that they can be taken out by the dentist if any maintenance needs to be done to the teeth or something needs to be cleaned or gums need to be checked, anything like that. They can be taken out by the dentist. But for your day-to-day life, they're there and they feel very natural and very secure.
What is the cost of all-on-4 dental implants?
Now, all-on-4 dental implants can be a bit of an investment. Sometimes, it costs you know similar to what a new car would cost. It depends on if you need an upper arch, a lower arch, one or the other or both. It makes a big difference. But it can be life changing. And it is something that you can enjoy, unlike a car that wears out. So, it is something to seriously consider if you are frustrated with loose dentures or missing all of your teeth.
What is the success rate of all-on-4 implants?
All-on-4 implants have a success rate of over 95% five years after placement. However, your quality of bone and dental habits can affect the success rate of all-on-4 dental implants.
How do I find a dentist for all-on-4 implants?
At Express Dentist, we have a trusted network of providers, clinicians that are competent at providing this service. They are trained. They have the expertise for all-on-4 dental implants. If you have dental fears and anxieties, these are trained professionals who can put you at ease. So, please feel free to reach out and talk to us and we will help you get a referral to someone that can at least give you an evaluation and give you a little bit more information on all-on-4 dental implants to see if there's a gameplan that might work for you. With that, keep smiling and stay well.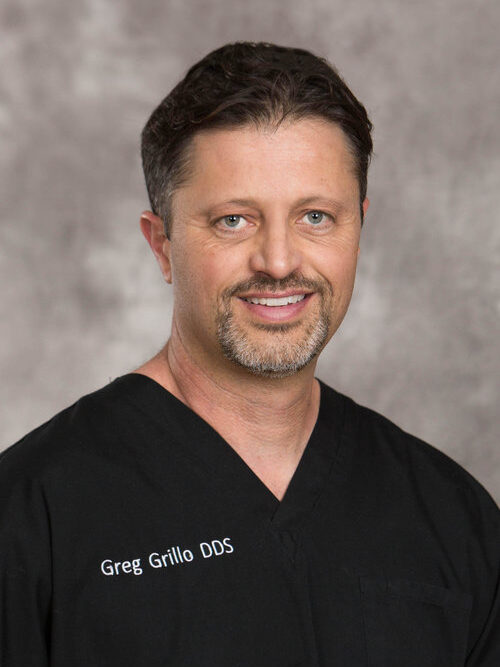 Dr. Greg Grillo DDS studied at the University of Washington where he received a bachelors degree with Honors and later attended dental school on the same campus. Following school Dr. Greg served in the United States Navy as a dental officer. During this time he received advanced training in specialty areas of dentistry while also treating families of members of the military.
As well as sharing valuable information on dentistry and oral health, Dr. Greg remains a practicing dentist to this day. He works with families in the Okanogan Valley where he lives with his wife and three children.