You know often people wonder: How do I choose a dentist? It's a good question! It's a big decision. You're trusting your care to somebody, and you'd like to know a little bit about them. So, there are a few criteria that you might consider when you're choosing a new dentist.
Location
First of all, think about the location. Is it convenient to reach the dentist? Will it be somebody that's easy to reach if you have an emergency? Most people choose dentists that are within about 7 or 8 miles of their home. That's just statistically. But you might decide to choose a dentist that is close to your workplace as well. So, that is certainly one thing to consider. You should also consider the office hours they offer. For instance, if you work long hours during the week, you might want to find a weekend dentist nearby.
Insurance
Second, you may consider insurance, if you're dependent on an insurance plan for affordable dental care. You may want to know if a dentist takes your insurance, processes your insurance, is in network or out of network. There can be some complicated questions around insurance, and that's something that you may want to find out.
Reviews
Another consideration is reviews. These days reviews matter. You know how it is for anything you go to buy. If you go to Amazon to buy a product or you're going to a restaurant, you check reviews. And 90% of people say that they check reviews when choosing a healthcare provider. Most people say that they actually trust reviews more than a referral from a family or friend. So, they are very important.
Referrals
That brings us to another consideration. A referral or the advice of people that you trust that maybe use that dentist. Then you can learn a little bit from them and see if it sounds like the right fit for you.
Specialty
Another consideration is the specialty of the dentist. So, most dentists are general dentists, and they can perform a lot of procedures that have specialty parts to them. But if you need something very specific, maybe you have a very complex orthodontic case, for example, you may be looking for an orthodontist rather than a general dentist. But a general dentist can be a great place to start to help screen, make sure that your teeth are healthy, that your bone levels are adequate, you know, for something like orthodontic treatment. Or maybe you need dental care for a child with autism and want a dentist who has experience in providing care to such children. So, that can be certainly a good place to start.
Personal preference
Then another criterion is just your personal preferences. Everybody has their own style. And you may see something on their website or in their reviews or in their social media or something that you've heard that just really seems to fit your style, what you're looking for. A good example would be if somebody's looking for, you know, a holistic dentist, for example, one that is completely metal free and uses various techniques that are focused in that direction. Then you may want to look for that type of criterion. Or perhaps you're looking for a provider who uses a newer dental technology that is not widely available.
Tips on evaluating a dental care provider
So, when you go to a dentist for the first time, what should you do there to evaluate whether you've found the right fit? There are a couple of things to consider:
First of all, how does it feel? How does it feel to be in the office? How do you feel about the culture of the office, the setting of the office? Most of us have a pretty good idea pretty quickly whether we're in the right place or not. And so, that's a really valuable intuition to trust for yourself.
Then, you know, ask questions while you're there. Ask questions of the dentist. Make sure that you feel satisfied with what you're being told and what the staff has to share with you as well. That's valuable criteria. Also, when you go to the dentist for the first time, be sure you bring along any insurance information (your insurance card) and if you're aware of any co-pays that they may collect upfront as well.
Finding a dentist nearby
There are a few considerations when you're looking for a dentist. This just gives you some things to think about. Now, if you need help selecting a dentist, at Express Dentist we have a trusted network of dental providers everywhere around the country, and we can help you find one that can fit with what you're looking for. So, if you give us a call and let us know what's important to you, then we can help you get situated with a dentist, at least for that first visit to make sure that you're where you want to be and that feels comfortable to you.
So, these were just a few ideas of how to choose that first dentist, what questions to ask, what to look for, and I hope that helps. Keep your smile healthy and beautiful!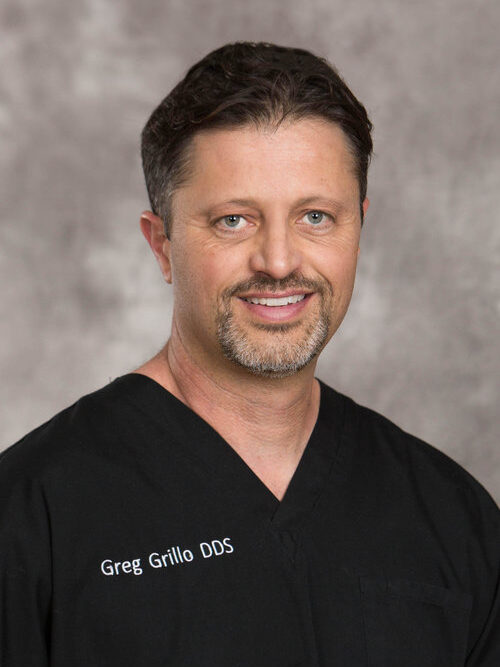 Dr. Greg Grillo DDS studied at the University of Washington where he received a bachelors degree with Honors and later attended dental school on the same campus. Following school Dr. Greg served in the United States Navy as a dental officer. During this time he received advanced training in specialty areas of dentistry while also treating families of members of the military.
As well as sharing valuable information on dentistry and oral health, Dr. Greg remains a practicing dentist to this day. He works with families in the Okanogan Valley where he lives with his wife and three children.